Vande Bharat Express realizes Gandhiji's vision of Swadeshi and fillips Narendra Modi's Make in India
Anusha Sathish (Author)
Published Date :

Oct 03, 2019 12:19 IST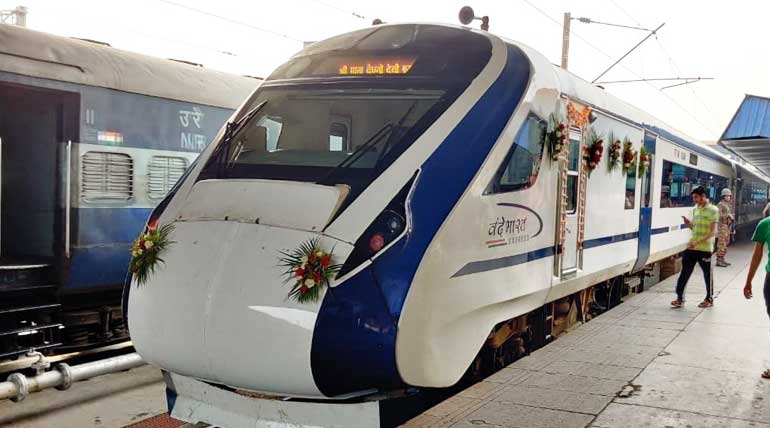 Vande Bharat Express realizes Gandhiji's vision of Swadeshi and fillips Narendra Modi's "Make in India.": Home Minister Amit shah flagged off India's "superior to Shatabdi Express" Vande Bharat Express realizing the dream of Make in India initiative. This is the second express after the first one "Train 18" was trial run on February.
The debut trip of the train was between Delhi and Katra, and the same is getting commercialized from October 5. The New Delhi-Shri Matha Vaishno Devi Katra-New Delhi will rail on all days except for Thursday. "It is a Navratri gift to Kashmir," pointed Amit Shah.
Vande Bharat express is an engine-less propelled vehicle and has 16 coaches duly air-conditioned chair-car service. Out of 16 coaches, 2 are driver cars, 2 are executive chair car, and the other 12 are chair car coaches. The technology programmed vehicle will reduce the running time between Delhi-Katra from the current 12 hours to 8 hours.
Gandhiji's swadeshi and our Prime Minister's "Make in India" are carrying the common interests and goals. Modiji's vision of speed, scale, and service to the railways is getting realized with this launch and the lines of pipeline launches.
Railway Minister Piyush Goyal congratulated railway engineers on the success of Vande Bharat express and their manufacturing success. He also expressed that plans are in the cards to keep improving railway connectivity in Jammu and Kashmir.
Glimpses of Vande BharatExpress
All the coaches are air-conditioned to increase the comfort level of onboard passengers, and all have separate toilets for disabled persons with an automatic lighting door system.
To reduce the last-minute chaos, every coach has an LED screen indicating the next stoppage, train speed and has CCTV cameras
Automated doors with operation rights given to guards
The traditional chain pulling system is sidelined, and any issues are addressed with the push of a button. Guard will appear immediately for assistance.
Vacuum toilets, diffused lights, hands-free taps, dryers, mobile charging point are the additional accessories available with a 360-degree rotating chair in executive coaches.
The train has the biggest distributed pantry hence one-stop pantry system is stopped.
High resistant windows are available which can withstand stone-pelting and a cattle guard to prevent damage to the train in case of cattle run.
Chemicals are avoided even for cleaning purposes, and it is a pride to spell it out as a green train.
More such trains are expected to be launched, and the tentative planned routes are Bengaluru-Hyderabad, Mumbai-Ahmedabad, and Kolkatta-Patna.