Who shot Jamia Millia Islamia students While Protesting?
Vignesh Subbaian (Author)
Published Date :

Dec 17, 2019 17:05 IST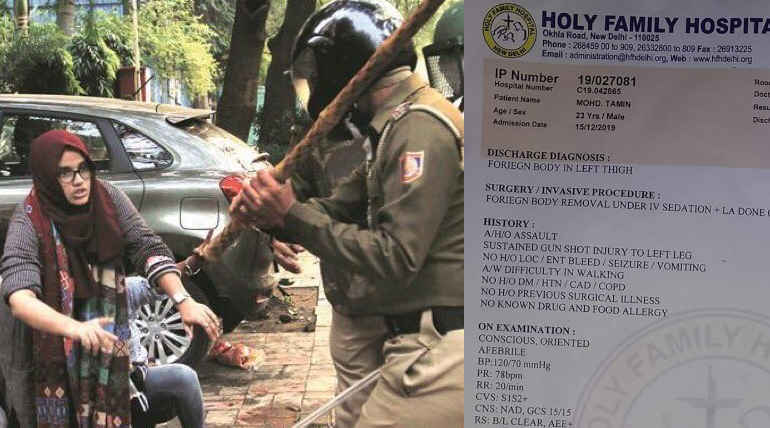 Three persons are admitted to two Delhi hospitals with alleged bullet injuries. There are various versions said about the injuries. Police first say they never used any firearms or rubber bullets and then say it could be due to rubber bullets. Some of them also say that it could be the shrapnel from the tear gas shell used widely in the Jamia campus on 14 December night.
The Citizen Amendment Act is now burning India. From the northeast to West Bengal to Delhi and then UP, it is spreading like wildfire. Mainly the students oppose the act as unconstitutional and a direct attack on democracy. But the government is only focusing on curbing the outbreaks of violence.
A similar one happened on 14 December night in the Delhi Jamia Millia Islamia. The Delhi police entered the university during the night time. Lights were switched off, and the students, irrespective of male and female, were beaten up. Many viral videos are now playing across social media for everyone to see. But now news about three students hospitalized with bullet injuries surfaced.
Two students are admitted at the Safdarjung Hospital and one at the Holy Family hospital with alleged bullet injures. As usual, at first, the doctors say it is bullet injuries, but the police claim they never used firearms. But the patient Mohammed Taemin in the Holy Family Hospital who had been hit on the left leg says that the policemen pointed and fired at him. Also, of the two patients in Safdarjung Hospital, one is a Jamia student. The doctor treating him admitted that he had a bullet injury on his chest. But he said he is out of critical condition.
Devesh Srivastava, the Joint Commissioner of Delhi Police, said that they have not shot any student and also not used any rubber bullets. Fragments from tear gas shells must have hit the injured is his contention.