Zomato Apologize To Tamil Nadu People For 'Everyone Should Know Hindi'
Thangaraja Palaniappan (Author)
Published Date :

Oct 19, 2021 15:57 IST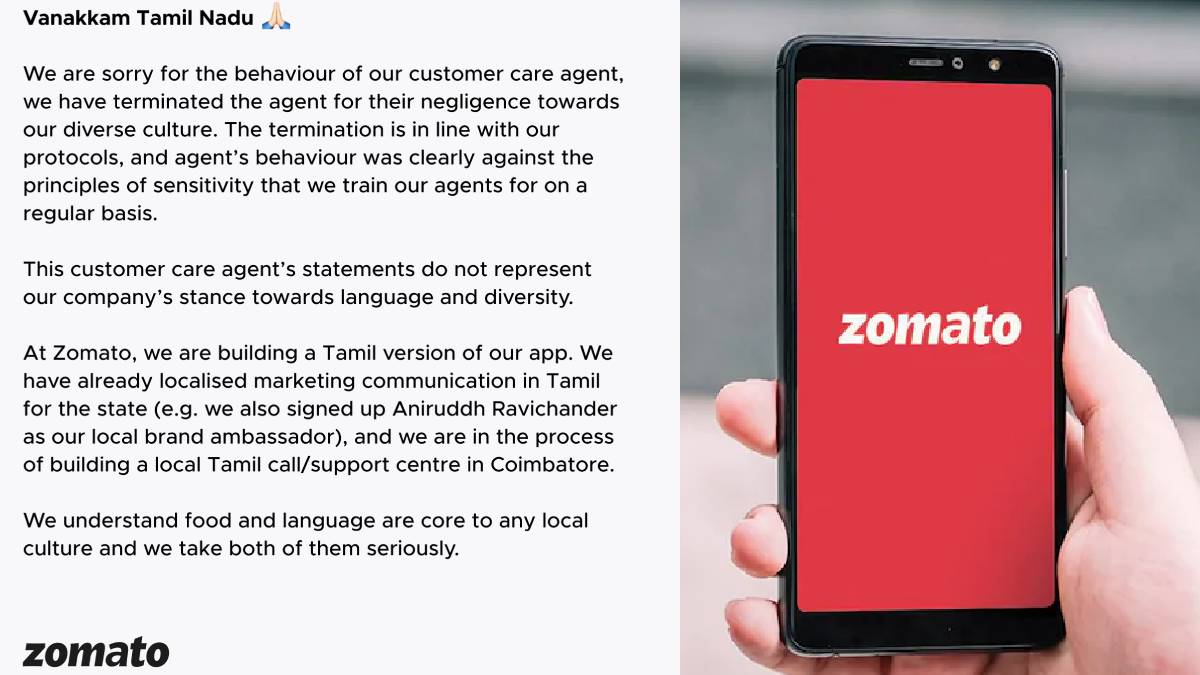 Zomato is one of the fastest-growing food delivery service companies in India. Zomato operates in 23 countries, including India. In recent years the Zomato has been getting into many controversies.
Recently, Vikash, a youth from Tamil Nadu, was ordering food at Zomato yesterday. But his ordered food was missing. He has complained with Customer Care officials at zomato Customer Care. But the person who spoke from Zomato's customer care refused to give the refund.
Vikash tweeted, "Ordered food in zomato and an item was missed. Customer care says the amount can't be refunded as I didn't know Hindi. Also takes the lesson that being an Indian, I should know Hindi. He tagged me a liar as he didn't know Tamil. @zomato is not the way you talk to a customer. @zomatocare."
Later, "We spoke to the food company, no such information was received, and we also spoke to the delivery point," said a Zomato customer care officer. The officer also took a lesson on the Hindi language.
For this, Vikas tweeted, 'I need a strong clarification and public apology from the concerned person who accused me a liar and asked me to learn Hindi without any base reasons."
The Zomato official also told Vikas that he could not tell the exact details regarding the food just because of the language. The young man mentioned that if you serve in Tamil Nadu, you should hire people who know Tamil.
The customer care told Vikas that Hindi is our national language. So it is common that everybody should know Hindi a little bit. After this controversy, the tag #Reject_Zomato is currently trending all over the internet. People in Tamil Nadu state have been tweeting that you provide service in our state language.
Zomato has apologized to Vikas and the people of Tamil Nadu for ordering food in the wake of the controversy. Zomato tweeted,' Vanakkam Vikash, we apologize for our customer care agent's behaviour. Here's our official statement on this incident. We hope you give us a chance to serve you better next time.'
Vanakkam Vikash, we apologise for our customer care agent's behaviour. Here's our official statement on this incident. We hope you give us a chance to serve you better next time.

Pls don't #Reject_Zomato ♥️ https://t.co/P350GN7zUl pic.twitter.com/4Pv3Uvv32u

— zomato (@zomato) October 19, 2021