ads
A surprise move by rebel Congress MLA Nagaraj to continue with Congress party in Karnataka
Vijayan Sankar (Author)
Published Date :

Jul 14, 2019 12:38 IST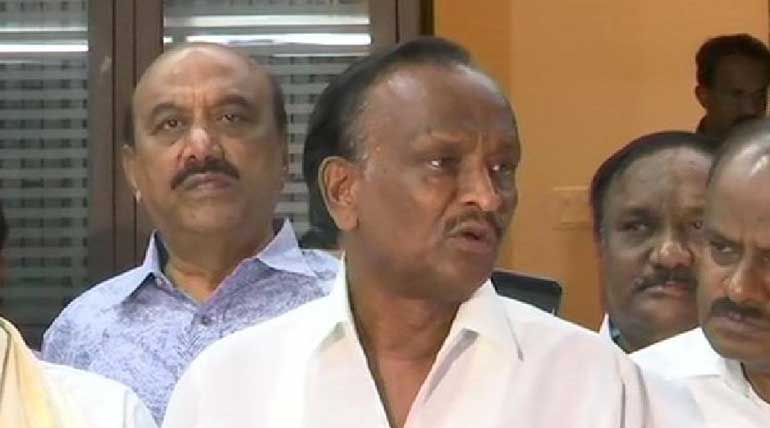 Ever since the BJP came back to power, there were many defections from Congress and other parties to BJP all over India. From Karnataka to Goa to West Bengal, it is happening everywhere. Prime Minister Modi who declared on the last leg of West Bengal polls, that more than 40 MLAs are in touch with him and will join BJP as soon as it came to power. Exactly that's what happened in the first week of him becoming the Prime Minister again.
The surprise move by rebel MLA Nagaraj:
Out of the blue yesterday, the rebel Congress MLA Nagaraj asserted that he would continue with Congress and also bring in another defecting MLA back to Congress. It is a boost to the Congress party in Karnataka when it is seeking a vote of confidence on the floor of the Karnataka assembly soon.
Prime Minister Modi bowed before the Constitution showing his respect towards it before taking oath as second time Prime Minister. But the incidents happening in Goa where 10 Congress MLAs defected to BJP, and many MLAs and party leaders of Congress and other parties defecting to BJP in West Bengal and the ongoing political crisis in Karnataka are not as per the Constitution values.
Karnataka, the easy target for BJP, to come to power:
In the recently concluded Assembly elections for the Karnataka state before the Lok Sabha polls, BJP got the majority seats of 105 but was short by 11 MLAs to reach the magic majority figure of 116 MLAs in the 224 member assembly. Yeddyurappa, the Karnataka BJP leader as soon as the Balakot strike happened announced that BJP will get more than 22 MP seats in Karnataka and also will form the BJP Government there. That is what is happening now.
The weak coalition of JD(S) and Congress in Karnataka:
To keep the BJP coming to power in Karnataka, the Congress with its 79 MLAs joined hands with the JD(S) which had 37 MLA seats. The leader of JD(S) Kumaraswamy was made the Chief Minister. The people of Karnataka did not like this coalition Government, and it is one of the main reasons BJP made a clean sweep of 25 seats out of the 28. It has made many MLAs of the Congress to defect to BJP. Also, the resignation of Rahul Gandhi as the President of Congress party added fuel to the fire.
Karnataka political drama reaches Supreme Court:
Ten rebel Congress MLAs approached the Supreme Court seeking a direction to the speaker of the Karnataka assembly to accept their resignations. But the Supreme Court asked the speaker to maintain status quo and not act on the resignation letters. Also, Chief Minister Kumaraswamy has confirmed that he will seek a vote of confidence from the assembly.
A surprise move by rebel Congress MLA Nagaraj to continue with Congress party in Karnataka