AIADMK O. Panneerselvam and Congress Khushbu election campaign
Vijayan Sankar (Author)
Published Date :

Oct 14, 2019 14:37 IST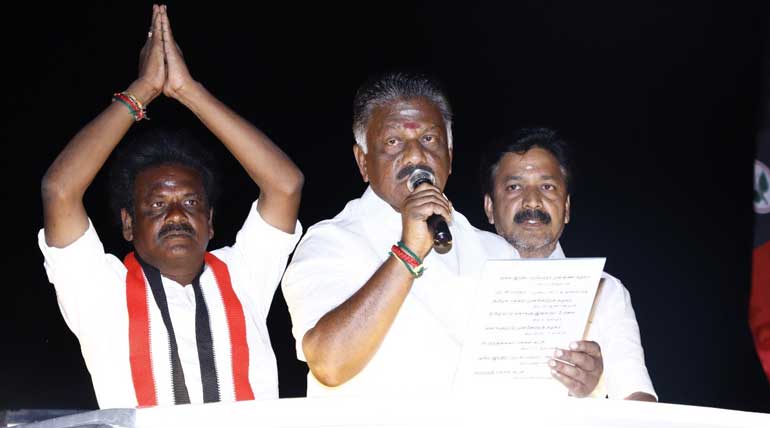 Deputy Chief Minister OPS, Khushbu campaign in Vikravandi and Nanguneri by-election constituencies: By this time next week, the by-elections to the two constituencies would have started in Tamil Nadu. Hence campaigning gets severe in the two by-election constituencies of Nanguneri and Vikravandi.
Being the last week before the by-elections on 21st many leaders of AIADMK and Congress campaigned fiercely for their candidates yesterday on 13th October.
Deputy chief minister O. Panneerselvam, Animal husbandry minister Udumalai Radhakrishnan, Fisheries minister D.Jeyakumar and Congress national spokesperson Khushbu garnered votes for their respective candidates.
O. Panneerselvam in Vikravandi: Deputy chief minister O. Panneerselvam was present in the Vikravandi constituency yesterday to garner votes for his party candidate Muthamilselvan. He said that only because Tamil Nadu is like a peaceful park, Prime Minister Modi and China's President choose Mamallapuram for the informal meeting.
Also, animal husbandry minister Udumalai Radhakrishnan and Palladam MLA Karaipdhur Natarajan were garnering votes for AIADMK in Kana, Siruvanaithangal, Kidar, Viramoor and other areas in the Vikravandi constituency.
Khushbu & Jeyakumar in Nanguneri: The All India Congress Spokesperson Khushbu yesterday garnered vote for her party candidate Ruby Manoharan. She said that it was only Congress to have brought in many schemes for the people of India.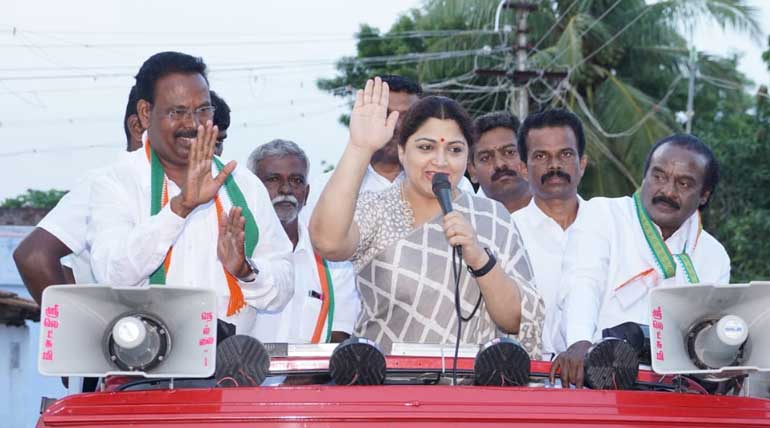 Be it the 100 days employment scheme for the poor, or many schemes to uplift the women and others were the reasons told by her to vote for Congress candidate.
Fisheries minister D. Jeyakumar campaigned for the AIADMK candidate and called the DMK a corporate party and the Congress the wealthiest party in the world.
Few days left for the prestigious two by-elections: Next Monday, 21st October, elections would have started in Nanguneri and Vikravandi. Hence with only a few days until Saturday at 5 PM, all the leaders of DMK, AIADMK, and allied parties will be campaigning fiercely in the two constituencies.
Chief Minister, who was busy in Mamallapuram, will be focusing on the two assembly constituencies. The opposition leader Stalin will also have another round of campaigning.
All the other ministers will be visiting the two assembly by-election constituencies. There will be many incidents of poll code violations also this week.
But who wins will be only known on 24th October in this prestigious by-elections in the two constituencies in Tamil Nadu.