AIADMK may win one of the two by-elections in Nanguneri and Vikravandi
Vijayan Sankar (Author)
Published Date :

Oct 14, 2019 16:58 IST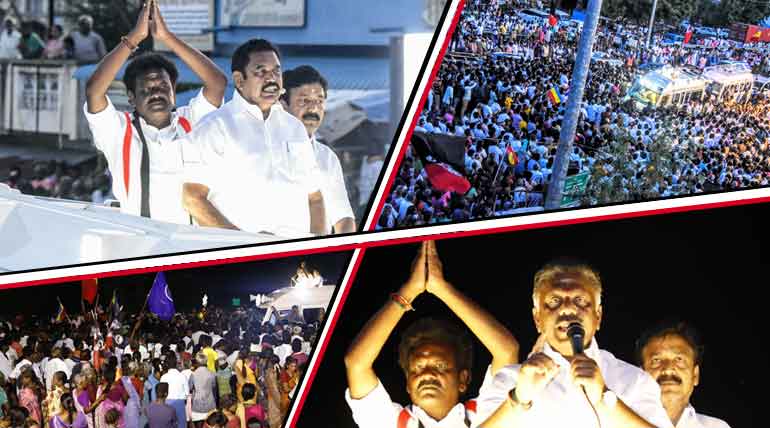 AIADMK may win one of the two by-elections in Nanguneri and Vikravandi: Next week the by-elections would have been over in the Nanguneri and Vikravandi assembly constituencies. Also, the results would be known around 1 PM on 24 October.
Though the two elections are not going to have a significant impact on the political equations, it is considered more of a prestigious battle among the two major political parties DMK and AIADMK in Tamil Nadu.
Also, assembly elections due in 2021, the by-elections could be a prelude to it. And no one knows when the local body elections will be conducted again as it is pending already for the past eight years. Hence AIADMK may get a reprieve if it wins even one seat out of the two by-polls next week in Tamil Nadu.
Nine by-poll wins out of 22 in April cemented the AIADMK rule in Tamil Nadu: Though AIADMK lost 38 out of 39 seats in the MP elections, they won 9 MLA seats out of the 22 assembly by-poll seats in May. It helped to make their position secure in the assembly until the 2021 assembly elections. Hence it has given a morale booster for them to face the Vellore elections.
Vellore gives confidence to AIADMK: The tactic of avoiding the BJP in the Vellore MP constituency paid them good dividends. They got nearly five lakh votes and gave a tough fight to the DMK candidate. Though losing by less than 10,000 votes, Vellore gives a boost to the ruling AIADMK.
Though there are many accusations of the full fort St.George was campaigning in Vellore, sill, it was a good show by the AIADMK. Also, it came after their disastrous loss at the hands of DMK to win only one out of 39 seats in the May MP elections.
Though they had the same alliance partners of PMK, BJP, and DMDK, they more or less fought on their own to get maximum votes in Vellore.
Former chief minister J.Jayalalitha had never lost even in one by-polls when her party AIADMK was in power. By winning the nine seats and with a confident show in the Vellore MP election, AIADMK may try the Amma magic and may win one of the two in the upcoming by-elections on 21 October.