ads
Amit Shah Takes the Throne of LK Advani in Gandhi Nagar as MP
Anusha Sathish (Author)
Published Date :

May 24, 2019 14:52 IST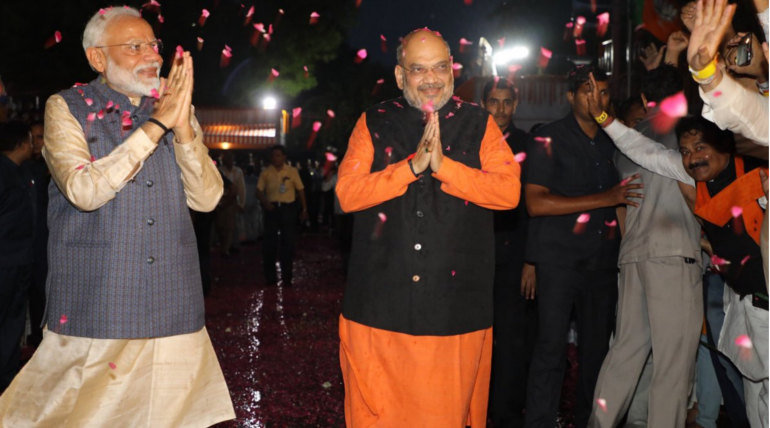 BJP president Amit Shah was declared elected from Gandhi Nagar on Thursday with an astounding margin of 5.57 lakh votes. He confronted Congress rival CJ Chavda and has secured 8.94 lakh votes as against Chavda who secured 3.37 lakh votes. It is a phenomenal victory for the BJP President who is a backroom strategist for Narendra Modi. He was instrumental in bringing back Narendra Modi to the throne with a stunning margin. To overcome the loss of December 2018 elections Shah has helped Modi to run one of India's most divisive election campaigns to increase the BJP's nationalist base.
He was backing Modi to seed the thought amongst voters that the opposition party is weak and indecisive and tried to appease minority Muslims and arch-foe Pakistan and skillfully skew the voters' mind with national security fears. But the truth is that the party was just funding for clerics and religious schools that turned the region to a Muslim majority country and source of illegal immigrants. "It is explicitly shown that the Congress President Rahul Gandhi chose to contest from Muslim-dominated constituency in the southern state of Kerala," Shah pointed. He also welcomed criticisms which stated BJP has a deep-seated hostility towards 180 million Muslims in the country.
Shah condemned the statement by Congress stating that BJP neither hates any community nor trying to appease any community like the way Congress does. It is said that Shah and Modi are hailing from the same state and their political togetherness is more than 30 years. There has been mutual trust, relationship and gains from this association. Shah makes debut contest in this election and secured a landslide victory. The position for shah is still under wraps. There are also talks in the air that Shah would be the potential replacement once Modi turns 75 in 2025.
Amit Shah Takes the Throne of LK Advani in Gandhi Nagar as MP