ads
Anti AIADMK Wave helped DMK to Win MP Seats?
Vijayan Sankar (Author)
Published Date :

May 24, 2019 11:18 IST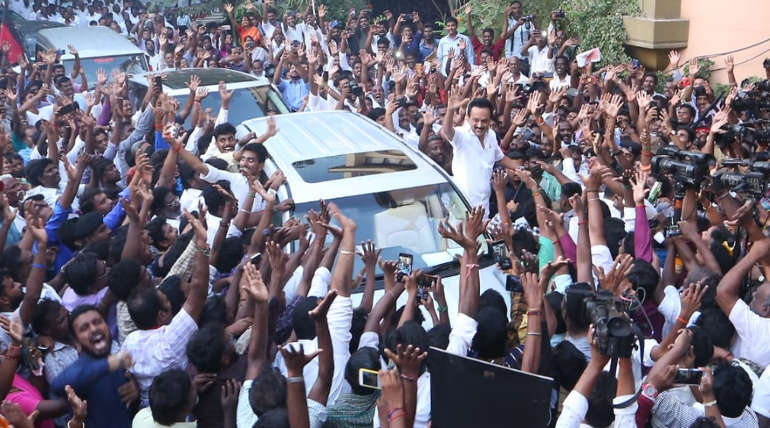 Is DMK's landslide victory going in vain with NDA losing and AIADMK is winning 9 out of the 22 assembly seats? Even the Modi magic which worked all over India did not help it to win even one seat in Tamil Nadu. It is after its alliance with the ruling AIADMK among other significant parties. But the landslide win of 38 MP seats by DMK goes in vain after it winning only 13 out of the 22 assembly seats. AIADMK won 9 seats in the Assembly elections to be in power for the next two years with an absolute majority. If DMK had managed to win at least 20 out of 22, they would have formed Government in Tamil Nadu with the majority of assembly seats. Also, DMK being part of UPA and its significant loss in the centre is another blow to DMK.
DMK being part of UPA will not get much support from NDA rule: Since UPA drowned at the centre and NDA is going to rule with the absolute majority it is going to be difficult for DMK to fulfil its poll promises. Also, their ideological difference with BJP is not going to help them much. The alliance of the ruling AIADMK and BJP is going to be in full force more than before in the next two years.
Why win 38 out of 39 in MP seats and 13 out of 22 in assembly by-polls? The anti-AIADMK wave helped in MP seats for the DMK but not in assembly elections. It could be due to many reasons, including money, candidate selections, and local popularity. But if DMK with more work in these 22 constituencies could have reaped its benefits.
But still, the efforts of DMK which not even win one MP seat in the 2014 elections have come back with a landslide victory. It is sending 38 MPs to the parliament to represent Tamil Nadu and benefit it as much as possible.
Anti AIADMK Wave helped DMK to Win MP Seats?