ads
BJP Issues Notice to Pragya Thakur and Two Others Over Comments on Godse
Vijayan Sankar (Author)
Published Date :

May 18, 2019 11:54 IST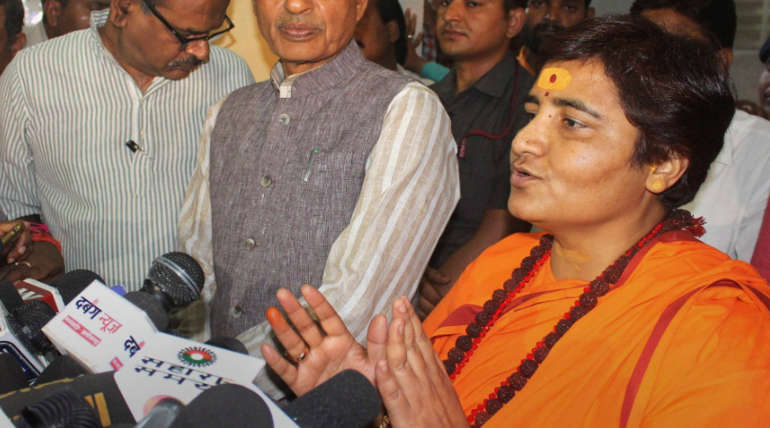 Yesterday BJP President Amit Shah asked the party disciplinary committee to issue a notice to Pragya Thakur, Anant Hegde, and Nalin Kateel. It is for their comment on Nathuram Godse, the assassin of Mahatma Gandhi. It is one of the first of its kind by the BJP against its party persons in its last five years in power. Several defaming and other national harmony and integrity disturbing comments have never issued any notices.
Why has BJP suddenly issued a notice for the first time against its party persons now?
The comment of Pragya Thakur that Nathuram Godse was a patriot, is a patriot, and will be a patriot was welcomed by the other two. Anant Kumar Hegde is the Union Minister of Skill development and Entrepreneurship. Nalin Kaleel is a BJP MP. BJP faced nationwide public criticism for their remarks on the assassin of Gandhi. In fear of losing votes of even their party supporters because of the attack on the holy soul of India, it has been done. Having to face the crucial last phase of the elections in a few days, this notice is issued.
Why no such notices for previous such comments by these three persons among others for the past five years by BJP?
It was the same Pragya Thakur as soon as her appointment as the BJP candidate of the Bhopal MP constituency said that Hemant Karkare died because of her curse. Hemant Karkare was the Joint Police Commissioner of Mumbai police who sacrificed his life-saving people during the 2008 Mumbai attacks. Prime Minister during his television interview after these comments also defended the candidature of Pragya Thakur, an accused in the Malegaon blast case which killed 8 people and injured hundreds. Anant Hegde has said several times that the constitution should be changed. No notices all these five years but for votes BJP issuing such notices to suffocate the anger of the people during elections.
BJP Issues Notice to Pragya Thakur and Two Others Over Comments on Godse