ads
BJP Set to Take a Second Term with Historic Winning
Anusha Sathish (Author)
Published Date :

May 23, 2019 18:38 IST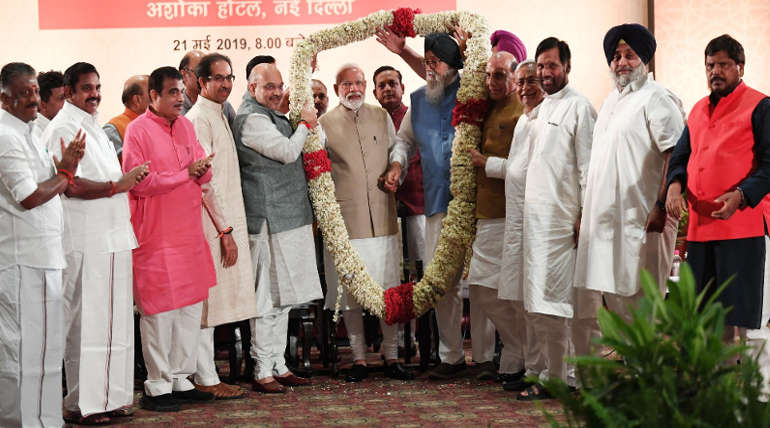 The seven phase Lok Sabha election in which Prime Minister Narendra Modi is seeking a second innings saw altogether 8000 contestants. With over 300 seats out of 543 seats BJP hithced a humongous victory with congress trailing behind. Narendra Modi wave is back and this is the first time in history that a non-congress party got a second term. Resounding Modi wave not only resonates in North India but also in West Bengal, Karnataka, Orissa and Madhya Pradesh. Union territory Delhi becomes BJP ground now. Only Tamil Nadu, Kerala and Andhra Pradesh are untouched. To mention, this is the first time that the results of the voting machines are matched with VVPATs generated by the machines. Question of manipulation gets ruled out with this.
The exit poll results have now become exact poll results with a very near match. The exit polls predicted 302/543 will be clinched by NDA and 122 by the congress and its allies. The campaign by Rahul Gandhi on topics like farmer distress, jobs and economy has not fructified. The BJP's nationalism pitch and their audacious attempts to curb Pakistan showcased the leadership quality of the Prime Minister which opened the gate for his second term.
Notably Pakistan Prime Minister Imran Khan congratulated Narendra Modi for his resounding victory. He tweeted that he looked forward to working with him for peace, progress and prosperity. BJP veteran L.K Advani congratulated Prime Minister for his unparalleled victory. Srilankan Prime Minister and President also conveyed their heartiest wishes to Narendra Modi for his unrivalled victory. "People re-endorsed your leadership and that is translated in election results," congratulated Sirisena. Prime Minister has organized a party at his headquarters in New Delhi. He is expected to reach there by 5 P.M and address the party workers. Kudos to BJP for its landslide victory for the second time. BJP is in hatrick now.
BJP Set to Take a Second Term with Historic Winning