ads
Chandrababu Naidu resigns and Jagmohan Reddy supersedes
Anusha Sathish (Author)
Published Date :

May 23, 2019 22:39 IST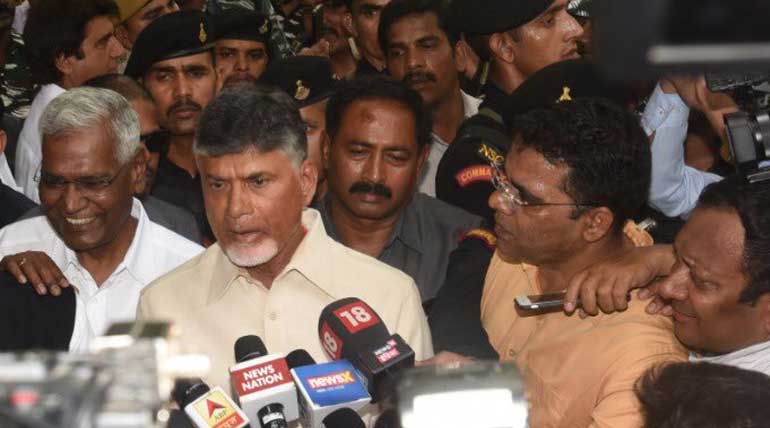 Out of 175 assembly constituencies YSR congress party was leading in 135 and won in 14 constituencies. Shockingly Telugu Desam Party (TDP) leads only in 23 out of 175 seats and the counting is nearing the fag end. TDP chief Chandrababu Naidu resigns as chief minister of Andhra Pradesh. The YSR congress party is leading in 135 constituencies and Jagan Mohan reddy who gave the toughest competition to Chandrababu Naidu won 22 out of 25 Lok Sabha seats in the state. The nation and state elections held on the same day on April 11.
This election has marked a landslide victory for Jagan Mohan Reddy. Notably Jagan Mohan Reddy is the son of YS Rajasekhara Reddy a popular Chief Minister of Andhra Pradesh who died in helicopter crash in September 2009. A year later, Jagan came out of congress and floated YSR congress party in 2011. TDP ruled the state since 2014 when the new state Telangana was sliced out from Andhra Pradesh. YSR congress party leader Ummareddy Venkateswaralu told that voters have entrusted responsibilities on Jaam Mohan Reddy. "Looting of Chandrababu Naidu was intolerable and giving another stint is unimaginable," the party leader voiced out. Reddy thanked citizens of AP for favoring him both in state and National elections. "I will live up to the expectations of the people," averred JaganMohan Reddy.
Never to deny, Naidu was banking on his welfare schemes and development promises to gain back the post. He was very keen to strategically stitch the opposition alliance for the last few weeks. But in front of Reddy's 3000 km walk campaign which facilitated thousands of village visits, Naidu's play was considered small. Exit poll has also give a balanced figure for both TDP and YSR but YSR swept away the state with a huge margin. Jagan Mohan Reddy is likely to take oath for the position of Chief Minister on May 30 while Narendra Modi congratulated him on his historical win.