CM Edappadi Palaniswami aggressively campaigned in Vikravandi and accused DMK
Vijayan Sankar (Author)
Published Date :

Oct 18, 2019 21:12 IST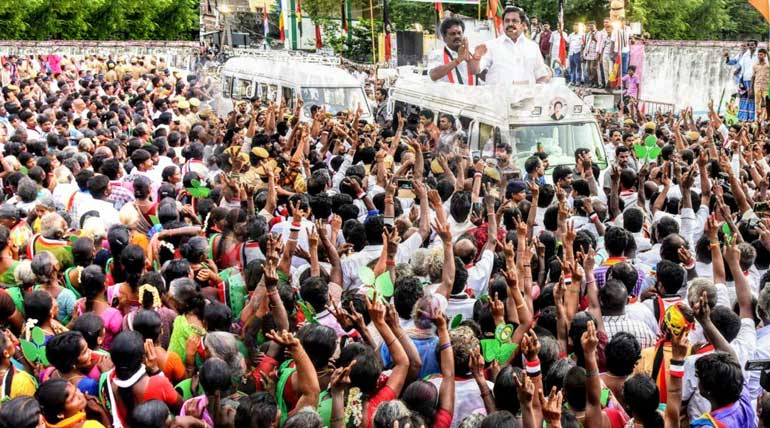 CM Edappadi Palaniswami aggressively campaigned in Vikravandi and accused DMK of a party born and grown in lies: Chief Minister was aggressive in his campaign today, 18th October in Vikravandi, accusing DMK of a party born from lies and raised in lies. Stalin speaks only the lies, and nothing can hide AIADMK achievements was his contention. By-election fever is at its peak in Nanguneri and Vikravandi elections today.
With just one more day for campaigning, the heat is on in the two MLA constituencies. While it was DMK's Stalin who held the limelight in Nanguneri yesterday, it was the Chief Minister Edappadi Palaniswami who stole the campaigning show today in Vikravandi. Allegations, counter-allegations flare up the two constituencies by both the major parties in the two constituencies.
Chief Minister Edappadi Palaniswami's salvos against the Stalin: Chief Minister Edappadi Palaniswami was on an all-out attack today to counter Stalin's allegations yesterday. The following were his angry contentions against Stalin in many parts of Vikravandi by-election constituency in Villupuram.
Any amount of effort by Stalin can not hide the welfare schemes of AIADMK government
It is only Stalin who speaks only 'Brudas' or false information, and it was not the AIADMK which is doing it
He challenged Stalin to find any discrepancy in the list of welfare schemes which AIADMK have brought to the Tamil Nadu people
There are roads put by AIADMK for everyone to see and nothing can hide the truth including Stalin
It was only DMK and Congress which brought NEET, and it was AIADMK which brought a resolution in the assembly to ban NEET and sent to Central government
Stalin's Thinnai campaign is nothing but the highest drama in Indian politics to get votes
What is the use of the request applications got by Stalin in Thinnai campaigns?
Why did the DMK not fulfill the promise of waiving loans when they win the MP elections?
DMK is the only party in India to have born from lies and grown in lies
AIADMK government sanctioned Rs. 40 crores for the Nandan Kalvai scheme
DMK is the dynastic party, and it was Karunanidhi, Stalin, and now Udayanidhi
Ex-minister Ponmudi is standing next to younger Udayanidhi which indicates the pathetic state of DMK
Stalin cannot take even one party person from the AIADMK party
One hundred twenty-two current MLAs will become 124 after this by-election, and the daydream of taking away four MLAs to come to power by DMK will never materialize.
OPS and Vijayabaskar in Nanguneri: While CM was aggressively campaigning in Vikravandi, it was deputy chief minister O Panneer Selvam in Nanguneri. He was answering to the question of Stalin about what were the achievements of AIAMK in the last eight years. He said that it was only Amma who solved the electricity supply issues within one year, which the DMK was unable to do.
He also said many achievements of Amma on the empowerment of women. Four grams to eight grams of gold to mangal sutras for women was the performance. He also accused the DMK government of inciting violence in their previous rule. Transport minister Vijaya Baskar added fuel to the fire of charging and questioning Stalin in Nanguneri.
All the AIADMK camp today was aggressively answering to Stalin's accusations yesterday. With the campaigning to end tomorrow, 19th October, at 5 PM, there will be the final round of further allegations and counter-accusations by both party leaders. But what is the result of the people will be only known on 24th October.