CM Edappadi Palaniswami and Health Minister Vijayabaskar in London
Vijayan Sankar (Author)
Published Date :

Aug 29, 2019 18:38 IST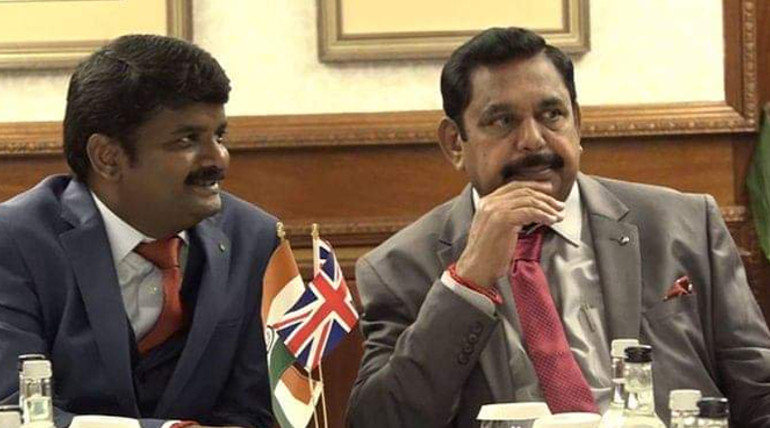 Chief Minister & Health Minister in London to uplift the lives of Tamil Nadu peopleTamil Nadu Chief Minister's twitter handle is now with videos and pictures of Chief Minister Edappadi Palaniswami's discussion with the London health experts. He along with Health Minister Vijayabaskar is currently holding talks to bring in the famous London ambulance service to Tamil Nadu. Also, there are talks and MOI signing events going on now for foreign investment and to upgrade the working of doctors and hospital staff now.
Chief Minister Edapadi Palanisamy in London:Chief Minister Edapadi Palanisamy started his foreign tour yesterday in line with the foreign investors meet held recently in Chennai. Now he is in London talking with the health experts on various developments for the Tamil Nadu health department. He is accompanied by the health minister Vijaya Bhaskar and other TN government officials. He is to sign many memoranda of understandings (MOU)s with ISDC or International Skill Development Corporation in London. They are the leading skill developers in the medical field.
Chief Minister Edapadi Palanisamy's agenda in London:Chief Minister is set to complete a set of plans in London today which include:
Bringing Tamil Nadu the famous London ambulance service to help those in emergency need for medical care
To increase the UK companies investment in Tamil Nadu in various sectors
To upgrade the medical skills of Tamil Nadu doctors and hospital staff on par with their London counterparts
Talks are now going on with international human resource development officials and Chief Minister for uplifting the Tamil Nadu peoples' human resources.
Tamil Nadu Chief Minister was given a warm welcome in London:
Earlier today, on arrival in London, the chief minister Edapadai Palanisamy was given a warm welcome by Tamil people living in London. After that, the chief minister straight away started his work for the Tamil Nadu people in London.
Hope and wish the Tamil Nadu Chief Minister Edapadi Palanisamy for a successful foreign tour to bring all the good for the Tamil Nadu people.