ads
Contradictory Statements on Exit Polls by Deputy CM O Panneer Selvam
Vijayan Sankar (Author)
Published Date :

May 22, 2019 14:40 IST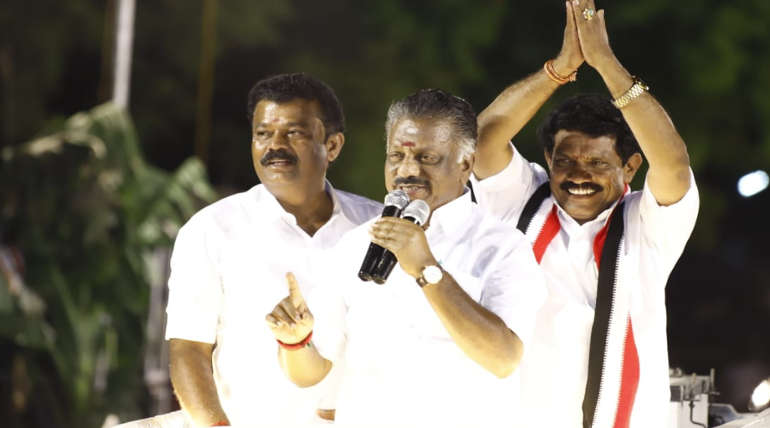 Speaking to the media at the airport to go to the dinner party hosted by BJP for celebrating the exit poll result O.Panneerselvam answered a few questions of reporters.
He gave contradictory statements about exit polls. He said that the exit polls only confirm that all Indians wanted BJP Government. When asked about the exit poll predicting that BJP not favoured in Tamil Nadu he said that AIADMK alliance would win not only all the 38 MP seats but also the 22 Assembly by-polls.
Amit Shah's dinner party last night for NDA allies:
As soon as the exit polls predicted an NDA majority in the concluded parliament elections, the BJP President invited all the NDA allies for a dinner party. The dinner was attended by all NDA allies and were all congratulated and thanked by Prime Minister Modi and BJP president Amit Shah. All were happy and smiling at the dinner about the outcome of the exit poll predictions. From Tamil Nadu Chief Minister Palanisamy, Deputy CM O.Panneerselvam, Premalatha, and Anbumani Ramadoss attended the dinner party.
What did O.Panneer Selvam say about being part of the NDA Government to be formed?
Regarding the question about being part of the NDA Government, O.Pannerselvam gave a cautious reply of deciding on it only after the outcome of the elections tomorrow. He also said only the leaders would discuss and finalize the decision. When asked about criticism of AIADMK MLA Thoppu Venkatachalam, he said that an explanation would be asked from him. When questioned about Chief Minister Palanisamy's remarks of exit poll predictions are false he told it is his mindset.
Even though the last four exit polls for the previous 4 parliament elections never gave correct figures, dinners and celebrations are galore in India by the BJP. But only by tomorrow, it will be known who is going to form the government.
Contradictory Statements on Exit Polls by Deputy CM O Panneer Selvam