Deputy CM Panneer Selvam Expressed Stalin Should Correct or Will Be Done by People
Vijayan Sankar (Author)
Published Date :

Sep 01, 2019 19:04 IST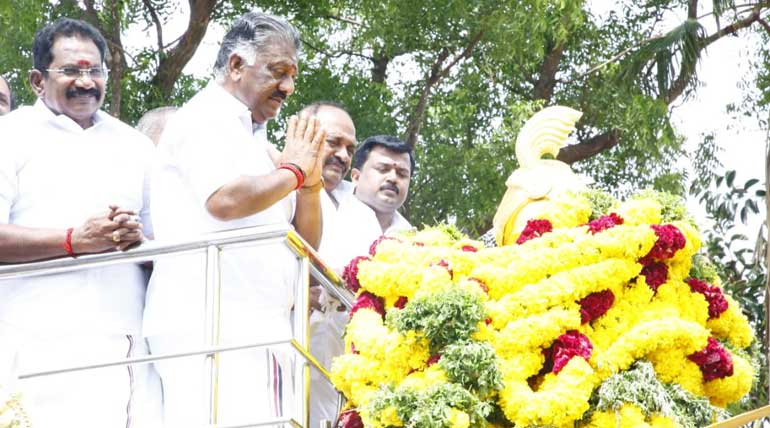 Deputy CM O Panneer Selvam says that Stalin should correct himself or will be corrected by the Tamil people
Deputy Chief Minister O Panneer Selvam in reply to Stalin's comments said that he should change and correct himself or the people will do that. He was asked this question in Tirunelveli, where he attended the function to felicitate Pooli Thevan's 304th birth anniversary. He also said by commenting on the foreign trip of the chief Minister, Stalin is only playing dirty politics and affixing their trademark stamp on it.
Pooli Thevan's 304th birth anniversary celebrations started a war of words between AIADMK and DMK:
On the occasion of Pooli Thevan's 304th birth anniversary celebrations, both DMK and AIADMK leaders were present in Nerkatruseval, in Tirunelveli. Stalin and O Panneer Selvam after garlanding Pooli Thevan's statue spoke to the press. It was Stalin first to comment on the Chief Minister and other ministers abroad tour to bring in various welfare measures. But Stalin termed it as an entertainment tour, and the ministers are becoming more of tourism ministers. In reply to the comments, deputy chief minister O Panneer Selvam said that Stalin should change for better or will be changed by the Tamil people.
Pooli Thevan's 304th birth centenary celebrations:
Today being the 304th birth anniversary of freedom fighter Pooli Thevan, Nerkatrum Sevai has become the destination of many political leaders. He fought bravely against the British in early days. Deputy Chief Minister participated in a government-sponsored program on Pooli Thevan in his memorial built by Tamil Nadu government. He garlanded the statue on behalf of Tamil Nadu Government. He was accompanied by ministers Kadambur Raju, Sellur Raju, O S Manian, Rajalakshmi among other officials.
The comment and counter comment of Stalin and O Panneer Selvam over the foreign tour of Chief Minister may only use for their political gains. But the useful measures which the Chief Minister Edapadi Palanisamy bring from his overseas trip will sure uplift the living of Tamil Nadu people.