DMK Leader MK Stalin speaks about Female Empowerment
Arjun Krishnan (Author)
Published Date :

Oct 16, 2019 13:04 IST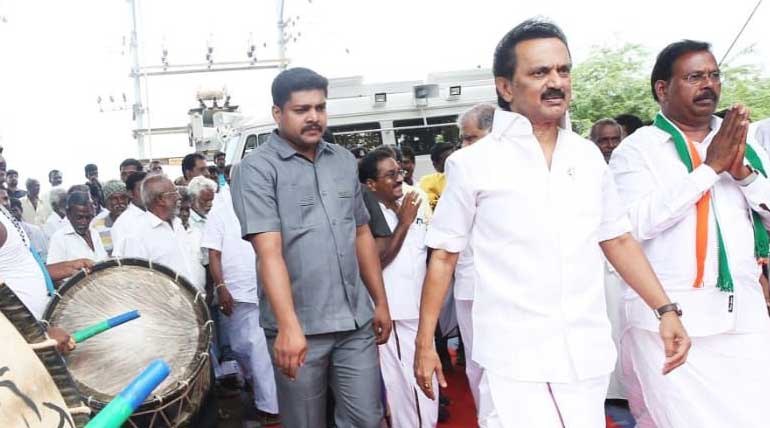 "DMK's Election Campaign in Nanguneri": DMK Leader MK Stalin gave a Speech in Nanguneri Constituency to support his ally party candidate Ruby Manoharan of Congress (President of Kancheepuram District Congress Committee).
The Nanguneri Assembly Constituency is set to have the by-polls due to the vacancy of MLA H Vasanthakumar, who has been elected as the Lok Sabha MP. Stalin recalled the achievements that has been accomplished during his Father's (M Karunanithi) Period.
Stalin highlighted the things related to Female Empowerment such as
Women Equality
Compliment of 10,000 rupees for the poor people to conduct marriage ceremonies
Scholarship for Pregnant Women, Widow rehab system
Compulsory appointment of Ladies in Kinder-garden schools program
33% of reservation for women in local authorities
Implementation of Women's Self Help Groups (WSHG)
Encouraging Small scale Industries
The introduction of various kinds of Subsidies has also been successfully executed during their rule, he added.
The DMK leader also pointed out the atrocities and irrational things done to Tamil Nadu people by State & Central Governments, respectively. Stalin also condemned the alleged imposition of new (Hindi) Language by humiliating the feelings of the general public.
The meeting was held in Kadamboduvalvu, a Panchayat Union of Nanguneri Constituency. There are 2,56,414 total voters in this assembly constituency, of which 1,27,025 were male voters, 1,29,385 being the female voters, and four other voters.
23 Candidates were in the fray for this Nanguneri constituency, and the election is slated on 21st October 2019. The results for the by-polls are set to be announced on the 24th of this month.