DMK Leader Stalin Likes to Conduct Complimentary Function For CM Edappadi Palaniswami
Vijayan Sankar (Author)
Published Date :

Sep 05, 2019 14:32 IST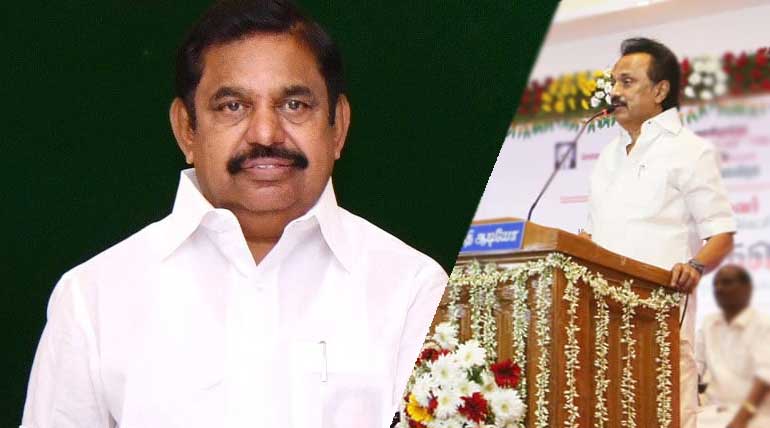 DMK to conduct complimentary function for CM says Stalin: DMK Leader Stalin today announced that his party would conduct a complementary function for Chief Minister Edappadi Palaniswami. Yes, you read it right; it was the opposition DMK leader M K Stalin who announced this in a marriage function in Tiruppur now. But it is only if the CM Edappadi Palaniswami brings in the foreign direct investment as he promised in the second world investment meet conducted recently in Chennai. He also said that it is utterly untrue of opening 220 companies in Tamil Nadu told by the CM in America.
Stalin criticizes CM of his speech in America at Swaminathan family marriage function in Tiruppur : Stalin's close aid, and former DMK minister Vellakovil Swaminathan family marriage function is held now in Tiruppur. Attending the function with many DMK leaders, Stalin spoke about the CMs foreign trip. He said that DMK would even conduct a complementary function for CM if he brings the promised foreign direct investment to Tamil Nadu.
What did Stalin say about CM's foreign trip today? DMK Leader Stalin said that the CM Edappadi Palaniswami confirming that the 220 companies promised in the world investor meet have been already opened in Tamil Nadu is a total lie. DMK Leader Stalin asked CM to point out where are these 220 companies located. He said he is continuously asking in the assembly for a white paper on the issue. DMK Leader Stalin also said he is asking the CM in the peoples' forum like this marriage for a long time
Stalin also criticized that there is no return even for the five lakhs spent on second world investor meet. Stalin asked where is the 2780 crore rupees foreign direct investment set to be received by the CM Edappadi Palaniswami. He further contended that Edappadi Palaniswami is saying only MOUs are getting signed and no concrete investment so far.
The efforts of CM abroad are commendable and will take time to be fruitful. But as an opposition leader Stalin is questioning CM for political purposes. But for the people, it is good welfare schemes needed now, and they expect it from chief minister Edappadi Palaniswami.