DMK President Stalin Campaign in Sulur Event Highlights
Prakash Jayaram (Author)
Published Date :

May 07, 2019 14:45 IST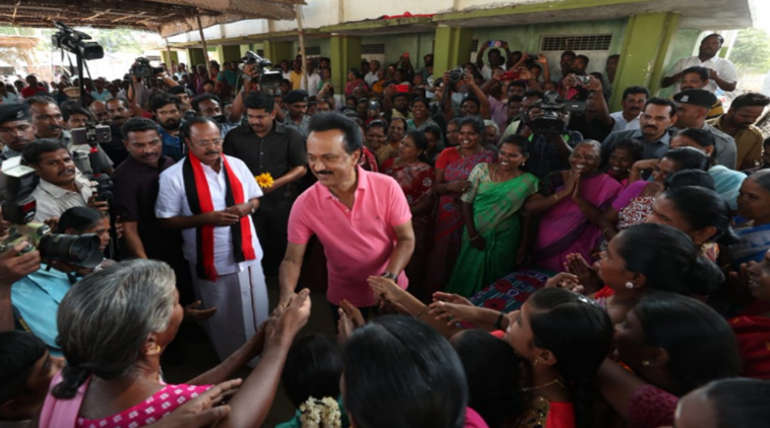 Stalin Campaign in Sulur
Talking to an excited crowd consisted mostly of his followers
Stalin
assured that if the federal government changes to Congress, we can induce a rule change in Tamilnadu. Campaigning in Sultanpet and Senjerimalai he gathered support for his Sulur candidate Pongalur N. Palanisamy.

Cable TV cost reduction
He promised to reduce the cost of cable TV to 100 rupees if DMK becomes the ruling party. The new TRAI regulations mandate that customers of cable TV must have the choice of choosing their own channels with reference to their costs. Though TRAI did this with good intentions, the plan increased the prices even more and received a heavy backlash from consumers. This was why Stalin promised a cost reduction.
The stay on disqualification of the MLAs
Stalin voiced his protest against the actions of ADMK for recommending the disqualification of the three MLAs and also applauded the court's decision to put stay on the notices issued to the MLAs by the assembly speaker Mr Dhanapal. He questioned why the ADMK party didn't fire the MLAs immediately when they found out they are supporting other parties.
He also mocked ADMK as being sitting ducks with the court going into summer leave and will open only in July.
Noyyal purification
Stating Pongalur n. Palanisamy's campaign promises he assured that he will work towards the purification of river Noyyal's water to facilitate irrigation in the area. With Noyyal being the Koovam of the south with dyeing factory wastes polluting the waters rendering them toxic and useless.

Internal elections scandal
He accused Edappadi of being a slave to Modi and ADMK is under the spell of BJP. "The internal elections has been intentionally delayed by the government so as to continue the corrupted workings of the local bodies", he said.