DMK Stalin and Udhyanithi Stalin Campaigning in full swing
Arjun Krishnan (Author)
Published Date :

Oct 15, 2019 16:14 IST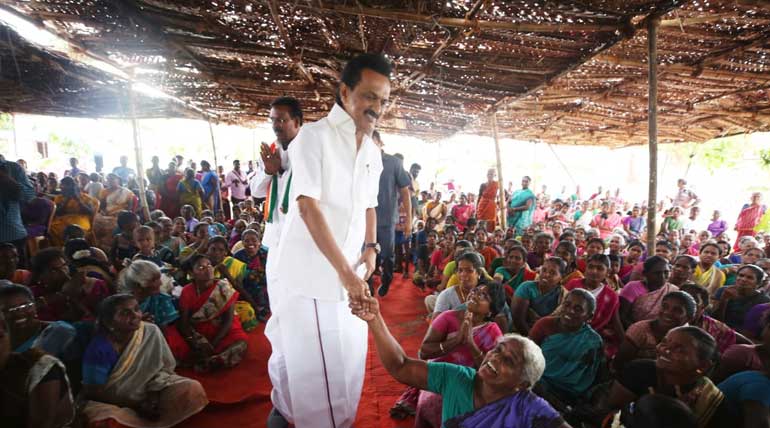 "DMK's Election campaign for the By-polls": The stage is set on fire for the by-elections of Vikravandi and Nanguneri constituencies. With less than a week left, for the poll various parties started their campaign with attractive manifestos.
DMK (Dravida Munnetra Kazhagam), One of the largest political party in Tamilnadu, is not an exceptional case. Stalin (the leader of DMK party), begins the election campaign in Kaliyanampoondi.
Kaliyanampoondi (A Panchayat Union in Vikravandi Constituency) supporting his party's candidate, E Pugazhendi by listing down their previous achievements.
Their achievements like constructing local authorities, ration shops and the issue of free homes during the period of Karunanithi (Former Chief Minister and Leader of DMK party).
He also condemned the Ruling party (AIADMK) by pointing out the rise in prices of basic amenities like Milk, Electricity Bill and Vegetables, by breaking their costs, which is twice higher than a year before. "This Ruling party is a slave to Modi's (BJP) government, which is ruling the Centre", he adds during his Speech.
Stalin son Udhyanithi Stalin (Secretary of DMK party's youth wing) has made the election campaign in Avadayarpattu Panchayat Union by asking the general public about their daily struggles and unsolved issues.
He also received the people's feedback and requested them to support their party (The Rising Sun). Their famous strategy of "Thinnai Pracharam" has also been done during this campaign.
The Vikravandi constituency consists of 2,23,387 total voters, which includes 1,11,607 are male voters, 1,11,546 were female voters, 25 being other voters and 209 service voters in regards to the voter's list issued by Election Commission of India.
Around 275 Polling booths have been set-up for the elections in which 24 has been detected as vulnerable. The various security measures like Flying Squad, Static Surveillance Team, Micro Observers has been established for the smooth running of Election.
With 24th October, is being marked as the counting day, the Election is set to be held on 21/10/2019.