DMK leader MK Stalin Opposes the Raise in Toll Gate Fees as Daylight Robbery
Vijayan Sankar (Author)
Published Date :

Sep 03, 2019 17:20 IST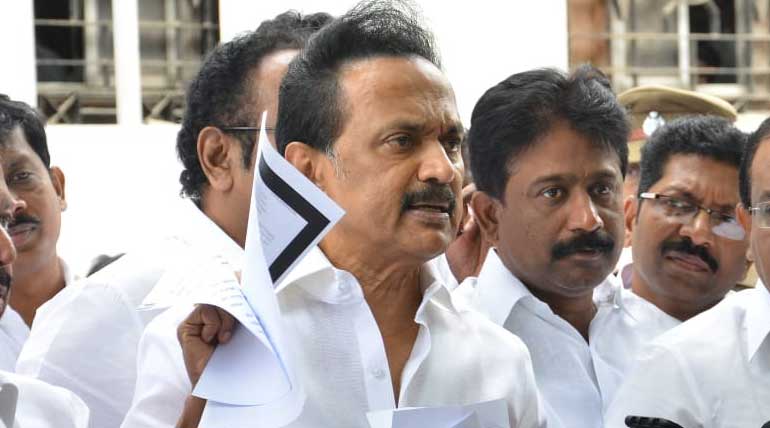 DMK leader MK Stalin opposes the raise in tollgate prices: Terming the rise in the tollgate prices, the opposition leader M K Stalin said it is a dare daylight robbery. It is highly condemnable as it will affect a lot of business and middle-class people. He said that tollgates should be to preserve the welfare of people and not to kill them.
15 tollgates across Tamil Nadu to cost more to cross from Rs. 4 to 15: If you are on a trip across Tamil Nadu, be aware that from 1st September you have to pay 3 - 15 % more in 15 toll plazas. NHAI or National Highways Authority of India has without much notice, increased its fees from 4 -15 Rupees. It comes in addition to the already increased toll fees in 22 toll gates in April this year. DMK leader Stalin has said that it is a daylight robbery by the central government.
Toll gates across Tamil Nadu: There are more than 5,000-kilometer roads across Tamil Nadu which have about 46 toll gates. For constructing and maintaining these roads, the toll gates collect money from those crossing those toll gates on both sides. It has become a significant burden for all those who travel across the state for business or personal purposes. Apart from the peak of petrol and diesel prices, this hike in toll gates becomes a nightmare for the people.
The condition of the road with tollgates: Though initially the 5,000 kilometre stretch of roads was well maintained by the NHAI, now over the years it has deteriorated. There are many highway roads without proper light and a lot of damages due to rains. It becomes the cause of many accidents and loss of precious lives. The increase in cost now will add more salt to the wounds of the people.
Following is the list of tollgates where the fees have been hiked:
Vijayamangalam Toll Plaza NH-544
Vaiguntham Toll Plaza
Thoppur Toll Plaza
Veeracholapuram Toll Plaza
Nathakkarai toll plaza
Mettupatti Toll Plaza
Manavasi Toll Plaza
Vikravandi Toll Plaza
Thirumandurai Toll Plaza
Valavanthankottai Toll Plaza
Ponnambalapatti Toll Plaza
Pudurpandiyapuram Toll Plaza
Kodai Road Toll Plaza
Eliyarpathi Toll Plaza
Nallur Toll Plaza
&nbsp
Tags :&nbsp
DMK LEader Stalin against toll gate fees
,
Tamil Nadu Toll Gate Fees increased from September 2019
,
Vijayamangalam Toll Plaza NH-544
,
Vaiguntham Toll Plaza
,
Thopur Toll Plaza
,
Veeracholapuram Toll Plaza
,
Nathakkarai toll plaza
,
Mettupatti Toll Plaza
,
Manavasi Toll Plaza
,
Vikravandi Toll Plaza
,
Thirumandurai Toll Plaza
,
Valavanthankottai Toll Plaza
,
Ponnambalapatti Toll Plaza
,
Pudurpandiyapuram Toll Plaza
,
Kodai Road Toll Plaza
,
Eliyarpathi Toll Plaza
,
Nallur Toll Plaza