Donald Trump Congratulates Modi and Said Indians are Fortunate that They have Modi
Thangaraja Palaniappan (Author)
Published Date :

May 25, 2019 11:34 IST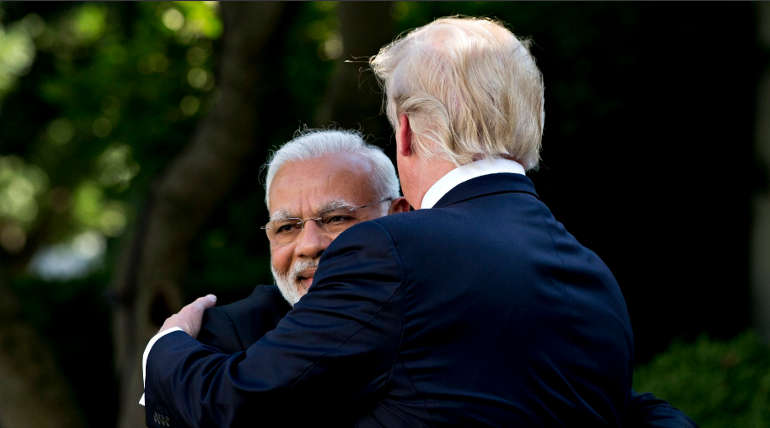 BJP led by PM Narendra Modi has won a historic victory in the 2019 Lok Sabha elections. After this, the leaders of the country and the world started congratulating PM Modi. US President Donald Trump also congratulated Narendra Modi for his victory. He said that Indians are fortunate that you have them.
Donald Trump tweeted Narendra Modi on this victory and congratulated him as a great man. Trump tweeted: Just spoke to PM NarendraModi where I congratulated him on his big political victory. He is such a great man and leader for the people of India - they are lucky to have him! (Indians).
Apart from this, another leader from America and Donald Trump's daughter, Ivanka Trump, also congratulated Prime Minister Modi for his victory. Ivanka tweeted: Congratulations to Prime Minister Narendra Modi for a glorious victory. It will be an exciting time for the wonderful people of India. '
PM Modi also thanked Ivanka Trump. He wrote, "Thank you, Ivanka Trump. Wishes from true friend of India like you(Ivanka) are invaluable."
The BJP coalition won a historic victory in the Lok Sabha elections in 2019. NDA got 353 seats and BJP got 303 seats. These are more than 2014 seats. In 2014 BJP got 282 seats. Now, these seats have increased. With this victory, political upheaval has started. According to information received from the sources, after taking the responsibility of defeat, party president Rahul Gandhi can resign today at the Congress Working Committee meeting.
On the other hand, if BJP is ahead of 2014, even if votes are the percentage of votes. BJP got 31 percent votes in 2014, which increased by 6 percent in 2019 to 37 percent. The growth of 6 percent of the vote after the 5-year term is historic. Never before had any party's vote percentage increased by 6 percent.
Just spoke to Prime Minister @NarendraModi where I congratulated him on his big political victory. He is a great man and leader for the people of India - they are lucky to have him!

— Donald J. Trump (@realDonaldTrump) May 24, 2019