ads
Hardwork and Sincerity of Dr Tamilisai Soundararajan Made Governor of Telangana
Vijayan Sankar (Author)
Published Date :

Sep 01, 2019 14:48 IST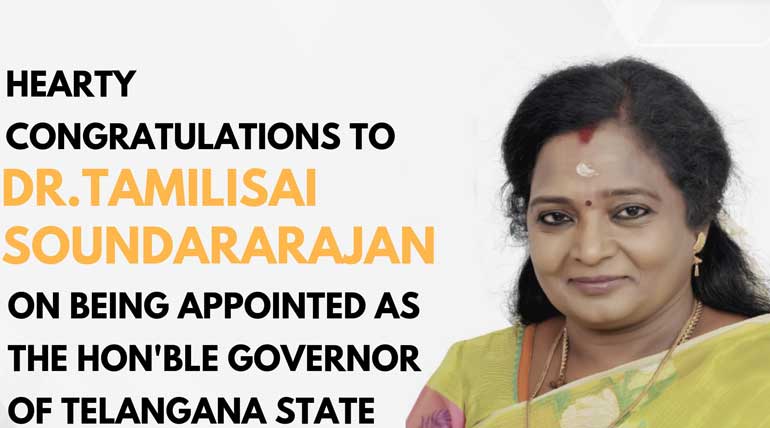 Dr Tamilisai Soundararajan appointed Governor of Telangana
Relentless and hard work will always be paid, is once again proved by the President's appointment of Tamilisai as the Governor of Telangana. As the BJP Tamil Nadu President, Dr Tamilisai Soundararajan has relentlessly worked for her party. She had included more than 43+ lakh BJP members in the state in her term as the state president. Hence to appreciate her persistent work, BJP has today appointed her as the Governor of Telangana.
Dr Tamilisai Soundararajan thanks the almighty and Modi:
On asked about her appointment as Governor, she replied that she thanks God and the ruler of the country. Further, she said that BJP recognized her hard work for the party and irrespective of her age, has given this governor post.
Tamilisai - the queen of memes now Governor of Telangana:
During her tenure as the state president of BJP, she was continuously trolled in the social media for the last five years. She was considered as the queen of memes and was back to back trolled on all the social media channels. But she took everything with a smiling face and even acknowledged being the queen of memes in Ananda Vikatan magazine function. That is the quality of Dr Tamilisai Soundararajan, that has taken her to the post of Governor.
Who is Dr Tamilisai Soundararajan?
Dr Tamilisai Soundararajan is the daughter of a veteran congressman, Kumari Ananthan. She is also the niece of Vasantha Kumar MP. Though her father and niece are congressmen, she was a staunch supporter of Modi and BJP. Though she did not have much chance in the Toothukudi MP constituency, she bravely fought against the mighty Kanimozhi of DMK. A doctor by profession she is married to Dr Soundarajan.
Tamilisai will be replacing Narasimhan as the Governor of Telangana. The state BJP will find it difficult to replace her as its state president to continue the hard and relentless work of Tamilisai.
Hardwork and Sincerity of Dr Tamilisai Soundararajan Made Governor of Telangana