HD Kumaraswamy Lost by 105 Votes Against Him
Vijayan Sankar (Author)
Published Date :

Jul 23, 2019 21:08 IST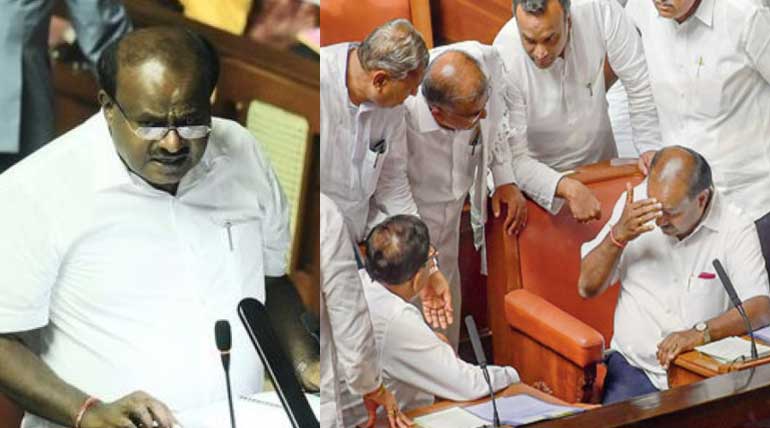 HD Kumaraswamy to be active Chief Minister of Karnataka till the next Government is formed & SEC. 144 clamped on Bengaluru
The one-year-old coalition Government of Karnataka fell today. Chief Minister HD Kumaraswamy failed to get the majority in the trust motion he moved on 19th July.
Kumaraswamy resigned, and Governor asked him to continue as CM till the next Government formed. BJP says it is a game of Karma. It was about the BJP Yedurappa resigning without a vote in May 2018.
Bengaluru police have clamped Section 144 across Bengaluru for today and tomorrow to curtail any untoward incidents.
Coalition government fails trust motion 99:105:
The Speaker of the Karnataka assembly KR Ramesh announced around 7: 45 PM today, the failure of the trust motion. The JD((S)-Congress collation has lost majority in the trust motion 99: 105.
Out of the 225 member assembly (one nominated MLA), only 204 attended today for the trust motion. The 15 rebel MLAs, two independents and 2 Congress MLAs stating health reasons and the lone BSP MLA did not vote today.
The Supreme Court last week gave the final blow to the coalition and passed an order not to pressurize the rebel MLAs to vote. All the attempts of Kumaraswamy and Shivkumar did not fructify.
Assembly elections & the coalition formation:
The assembly elections to the Karnataka conducted before the Lok Sabha elections. BJP got 105 seats, and Congress got 80, and JD(S) got 37. Congress to avert BJP from coming to power formed a coalition government with JDS) with its leader Kumaraswamy as the Chief Minister.
From day one, it was in jitters, and many were betting when it will collapse.
Lok Sabha election results and the start of the collapse of the coalition:
The Lok Sabha elections results proved a death nail on the collation. For nearly two months from the results on 24th May, the collation government was in tender hooks.
Yeddyurappa said as soon as the Balakot strike that the BJP will win more than 22 MP seats in Karnataka and will also form the Karnataka government when the results announced. But Yeddyurappa had to wait now for nearly two months.
Kumaraswamy to continue as CM till the next Government is formed.