ads
KCR Stalin Meeting Today at 4 PM in Chennai
Vijayan Sankar (Author)
Published Date :

May 13, 2019 12:50 IST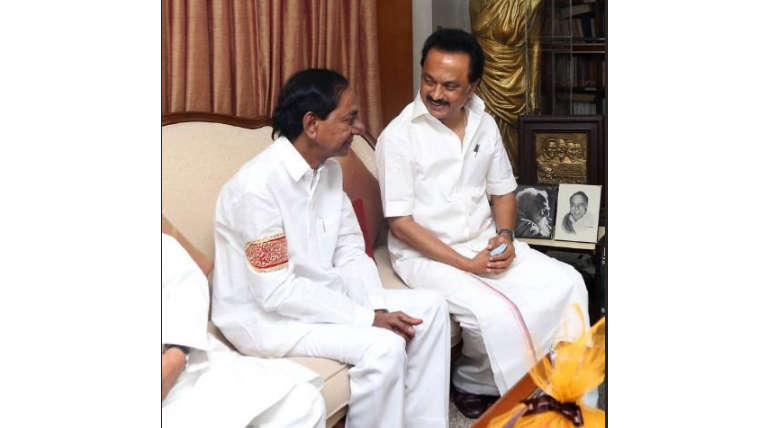 KCR Stalin Meeting: KCR is on a national tour meeting all possible political parties to form the Federal Front. But many have different opinions about it. It was the same KCR who wanted the elections for his state Telangana well before the general elections of 2019. Even before 8 months of his tenure as chief minister he dissolved the assembly and conducted early polls. In December 2018 the polls were conducted, and he won with a thumping majority. But the biggest question is why did he do so?
History of KCR: KCR was a leader of the separatist group of the united Andhra Pradesh state. He demanded separate state Telangana and succeeded in it. In the last leg of the parliament session, it was the Congress who stood by his side all the way and won it for him. Then in 2014 elections he won with absolute majority and became the first chief minister of Telangana. But he deserted the Congress which believed in him to support it in the 2014 parliament elections.
Is organizing Federal Front genuine or fishing trip with an ulterior motive? Even though KCR is having a whirlwind tour of the country meeting various leaders he is not able to muster even one supporter for the Federal Front so far. His seeking appointment last week was rejected by Stalin stating bypoll work. But again he is coming to meet Stalin today at 4 PM. Stalin was the first political leader in India to announce Rahul Gandhi as the prime minister nominee for the 2019 elections. But why is he still insisting on meeting him?
Politics is a cunning battlefield: No one knows who may align with whom for various gains. Hence even though there will be no fruitful result as of now, KCR is set to meet Stalin today. But it is only time that will say what is going to happen in politics later.
KCR Stalin Meeting Today at 4 PM in Chennai