Lawsuit Against Naam Tamilar Katchi Seeman in Vikravandi by TN Congress K.S. Alagiri
Sivaranjani Soundararaj (Author)
Published Date :

Oct 14, 2019 17:44 IST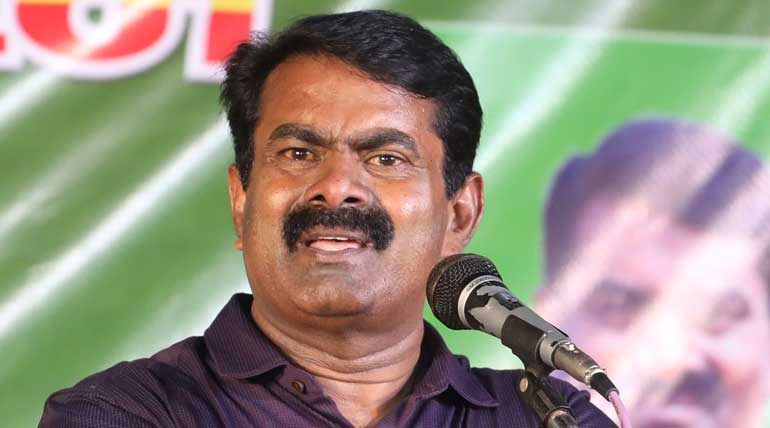 Lawsuit Against Naam Tamilar Katchi Seeman in Vikravandi by TNCC, K.S.Alagiri: All party campaigns are at full swing in Tamil Nadu for the by-election in Vikravandi and Nanguneri constituencies. The by-election schedules polling in a week on 21st October.
Reaching the final stage of the campaign for the by-election, Naam Tamilar Katchi leader Seeman faces legal suits for his unethical speech on the campaign.
Seeman, while campaigning for the by-election of Vikravandi constituency candidate K. Kandasamy of Naam Tamilar Katchi, let an obscure talk on Rajiv Gandhi's assassination in Tamilnadu.
Naam Tamilar Katchi leader Seeman provokes the stage by telling the anti-Tamil acts of Rajiv Gandhi, which led him to grave by Tamilians.
He also added that Rajiv Gandhi is responsible for the demise of many Tamils in Srilanka by deploying the Indian Peace Keeping Force. Seeman disrupts the tranquillity with his revolutionary campaigning in the Vikravandi region.
The disputing speech by Naam Tamilar Katchi Seeman made the party members file a case against him for sedition on Monday. The congress committee members and President of Villupuram district filed a lawsuit against Seeman in Vikravandi Police Station on behalf of SP Jayakumar. The case booked under two charges under the section of 153 and 504, affirming mutiny provocation and disrupting the peace.
The Tamilnadu Congress Party expresses condemn for Naam Tamilar Katchi Seeman's speech in Vikravandi constituency. Tamil Nadu Congress Committee president K.S. Alagiri strictly outlaws the provocating speech of Seeman about the assassination of Rajiv Gandhi in the Vikravandi by-election campaign.
Tamil Nadu Congress Committee Alagiri rebukes Seeman for his anti-Tamil sedition speech of Rajiv Gandhi and also condemns for supporting the release of seven Liberation Tigers of Tamil Eelam (LTTE) assassinators and Prabhakaran, LTTE leader. K.S. Alagiri also strongly declares to de-register the NTK party's consent.
K.S. Alagiri, TN congress president, tells that the grievances of Tamil people and their electoral support are an unknown factor for Seeman during the assassination of former Prime Minister Rajiv Gandhi in Tamil Nadu.
Alagiri rises up Seeman to know the brutal behavior of LTTE Prabhakaran in the conspiring death of Congress leader. Rajiv Gandhi is the one who worked for the welfare of Srilankan Tamils and also united the provinces of Sri Lanka by sending IPKF.
TN Congress leader K.S.Alagiri charges Seeman for his act of sedition through the campaign and tells that congress is not a ban for the release of seven assassinators of Rajiv Gandhi slaying crisis. The suspects are under the law, and IPC is responsible for the release declaration, and the Congress party has no objection in it, Alagiri clarifies.