Lok Sabha Elections 2019 Results Not a Concern - Deve gowda
Anusha Sathish (Author)
Published Date :

May 27, 2019 12:21 IST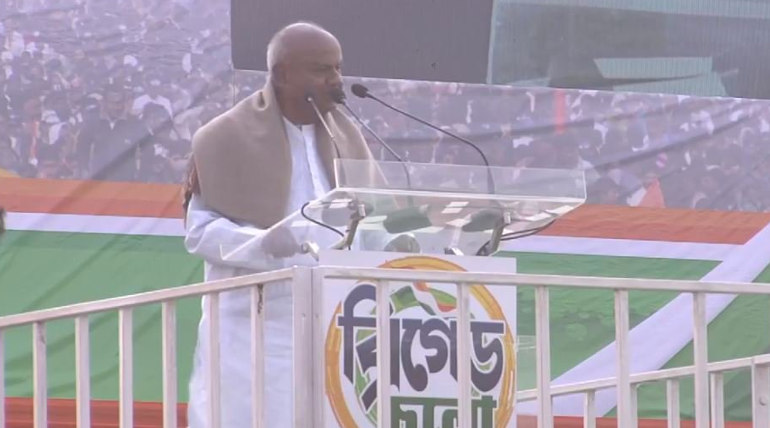 Former Prime Minister HD Deve Gowda dismissed his defeat in Lok Sabha elections as "not a big deal". He has got vanquished in the Lok Sabha poll elections in Tumakuru in Karnataka by a 13,000 vote margin. He lost his throne to BJP's G S Basavaraj from BJP. It is reported that the former Prime Minister did not play any sad notes instead said, "I have been defeated twice as a former Prime Minister and this is not a big issue. My concern is to save a regional party and see to that JD(S) strengthens its base. It is my accountability and will proceed forward."
Former Prime Minister also shared that the defeat is not the one to be discussed in the media. It is insane to blame people around, alternatively work on how to resurrect from the crisis. "The coalition JD(S) and Congress should work well. It is the responsibility for both the parties to give a stable government. President of Congress Working Committee in Karnataka Dinesh Gundurao also expressed his confidence to take forward the coalition government. Chief Minister HD Kumaraswamy also tweeted that he met committee Chairman Siddaramaiah today and discussed on the smooth functioning of JD(S) congress coalition government. "This is the first time Congress and JD(S) allied but this alliance did not work well.
Concurrently, a day after getting elected to parliament JD(S) leader Prajwal Revanna wanted to give up his seat to this grandfather Deve Gowda. The former Prime Minister represented from the constituency Hassan for five times and left the seat this time for his grandson Prajwal. Not disappointing his grandfather, Prajwal won the constituency against A. Manju of BJP with a margin of 1,41,324 votes. Prajwal has attributed his victory to his father and Public Works Minister H. D. Revanna who steered to win the coalition government congress's confidence. Prajwal also said that his grandfather should represent the party in parliament to raise issues of farmers fuming for a long time and he will be the best to represent our party. However, it is said that the former Prime Minster convinced his grandson and dismissed the plea.