Lok Sabha Elections 2019: State wise Results Live Updates, BJP Holds North
Thangaraja Palaniappan (Author)
Published Date :

May 23, 2019 17:12 IST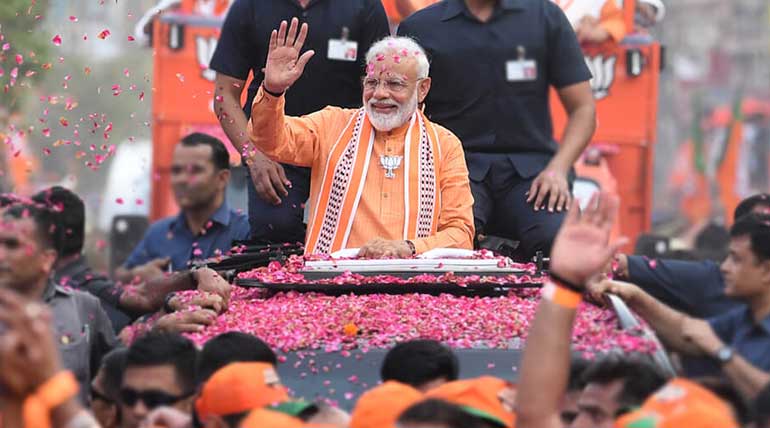 The Lok Sabha Election results are indeed a surprise for whole India as the new alliances and change of political scenarios in each state lead to drastic changes in the state-wise election results. While the south states Andhra Pradesh and Kerala had a heavy swift to the ruling parties, Karnataka had its first dominance of the BJP in the state. This indicates the blooming of lotus in the South too.
The state of West Bengal also had some Modi wave as the counting is going on a verge between the TMC and BJP in the Mamatha ruled state. Rahul Gandhi who was campaigning aggressively throughout India had his dominance only in southern states Kerala and Tamil Nadu due to some brilliant alliance moves. North region is completely moreover swept by the Modi wave and most of the regions declared the victory of Saffron.
Below are the number of seats both the NDA (BJP Alliance) and UPA (Congress Alliance) parties are leading along with other regional parties of each state. After the NDA and UPA alliances, YSR Congress is in a massive lead with a single state (AP) dominance beating the ruling party TDP. Check out the Lok Sabha elections 2019 updates here.
| | | | |
| --- | --- | --- | --- |
| States & Territories | NDA | UPA | Others |
| Andaman & Nicobar | 0 | 1 | 0 |
| Andhra Pradesh | 0 | 0 | 25 |
| Arunachal Pradesh | 2 | 0 | 0 |
| Assam | 9 | 3 | 2 |
| Bihar | 39 | 1 | 0 |
| Chandigarh | 1 | 0 | 0 |
| Chattisgarh | 9 | 2 | 0 |
| Dadra & Nagar Haveli | 0 | 0 | 1 |
| Daman & Diu | 1 | 0 | 0 |
| Goa | 1 | 1 | 0 |
| Gujarat | 26 | 0 | 0 |
| Haryana | 10 | 0 | 0 |
| Himachal Pradesh | 4 | 0 | 0 |
| Jammu & Kashmir | 3 | 0 | 3 |
| Jharkhand | 12 | 1 | 1 |
| Karnataka | 25 | 2 | 1 |
| Kerala | 0 | 19 | 1 |
| Lakshwadeep | 0 | 1 | 0 |
| Madhya Pradesh | 28 | 1 | 0 |
| Maharashtra | 41 | 5 | 2 |
| Manipur | 2 | 0 | 0 |
| Meghalaya | 0 | 1 | 1 |
| Mizoram | 0 | 0 | 1 |
| Nagaland | 0 | 0 | 1 |
| NCT of Delhi | 7 | 0 | 0 |
| Odisha | 8 | 0 | 13 |
| Puducherry | 0 | 1 | 0 |
| Punjab | 4 | 8 | 1 |
| Rajasthan | 25 | 0 | 0 |
| Sikkim | 0 | 0 | 1 |
| Tamil Nadu | 2 | 36 | 0 |
| Telangana | 4 | 3 | 10 |
| Tripura | 2 | 0 | 0 |
| Uttar Pradesh | 62 | 3 | 15 |
| Uttarakhand | 5 | 0 | 0 |
| West Bengal | 18 | 2 | 22 |