Minister C. V Shanmugam criticizes DMK leader Stalin
Vignesh Subbaian (Author)
Published Date :

Dec 16, 2019 19:36 IST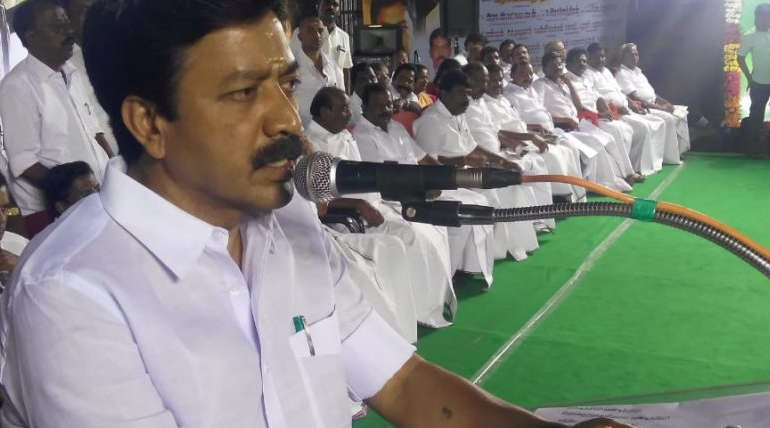 Minister C V Shanmugam criticizes DMK leader Stalin.
AIADMK minister CV Shanmugam today met the Press and criticized DMK leader Stalin. He was highly critical of Stalin and even his father, Karunanidhi. He dared Stalin to put a stage and fight on personal matters. Even the Press persons were shocked on his daring attack on Stalin which includes
Stalin filed many cases in the Supreme Court to cancel the local body elections.
Chief justice Bogde has observed that DMK is filing lawsuits only to cancel the polls without merits.
DMK is scared, feared, and shivering to face the local body elections and is also incapable of contesting it.
Today's DMK has given a notice to the state election commission to conduct the local body elections as per the supreme court norms is only a threatening act.
Stalin should consult excellent advocates before taking any legal proceedings to stop the local body elections.
Stalin, who says he is the son of the former chief minister should talk and act like it and also as the opposition leader.
Stalin has got no credentials or standards to comment on me
Stalin is not Gandhi, and I am not Buddha, and he should not talk about my matters.
One can speak a full day about the individual issues of Stalin
Stalin should comment only on my official duty and should not say like I am not able to stand properly.
Stalin being the opposition leader, is not able to utter appropriately four words together, should not say about me.
If you want to talk about a personal matter; put a stage, we will fight it out there.
All your false threats will not threaten me.
I am a citizen of Tamil Nadu, unlike your father, and dare you to say from where you and your father came.
If you have guts comment on me by calling my name and I will face it accordingly.