All Facts about the 57 Ministers Sworn in Yesterday
Vijayan Sankar (Author)
Published Date :

May 31, 2019 11:41 IST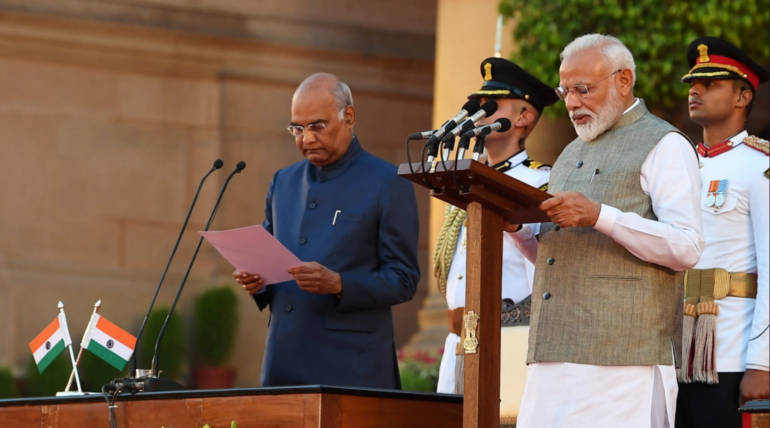 After a week of announcing the results, the swearing-in ceremony of the Prime Minister and the Council of Ministers was done yesterday. Precisely at 7 PM, the swearing-in was started at the Rashtrapati Bhavan. All the expected invitees attended the swearing-in ceremony.
President Ram Nath Govind first administered the oath of confidence to Modi and then to the other 57 ministers. The 8000 + invitees enjoyed the fantastic evening on the backdrop of the picturesque Rashtrapati Bhavan. Millions across the country and abroad watched the event live in their televisions.
24 cabinet ministers:
The council of ministers includes 24 cabinet ministers, 24 ministers of state and eight ministers with independent charge. Amit Shah took oath as a cabinet minister after Prime Minister and Rajnath Singh. He is rumoured to be the next finance minister of India.
Surprises in the new council of ministers:
Apart from Amit Shah, there were some surprises in the new council of ministers. Former foreign secretary Jaishankar Subramanyam is sworn in as the cabinet minister. He is said to take over as foreign minister from Sushma Swaraj who did not contest the elections this time. Jai Shankar is another most trusted man by Modi for decades. Also, his credentials as foreign secretary and ambassadors to many countries are impeccable and with intelligence and excellent efficiency. Pratap Chandra Sarangi the MP from Odisha, also known as Odisha's Modi is now a Minister of State.
Notable left outs in the council of ministers:
Apart from Jaitley and Sushma the other significant left outs from the previous council of ministers include Radha Mohan Singh, Maneka Gandhi, Suresh Prabhu, Jayant Sinha, Rajvardhan Singh Rathore, Jagat Prakash Nadda and Anupriya Patel. The reasons for the left out is not known for them not included in the council of ministers.
Nitish Kumar rejects the lone ministerial post offered to his party:
RP Singh of JD (U) of Bihar was given only one ministerial berth yesterday. Nitish Kumar's JD(U) has won all the MP seats contested in Bihar and helped the BJP coalition win a whopping 39 out of the 40 seats in Bihar. But since his party was given only one ministerial berth, he opted out of the council of ministers. But he confirmed being part of the NDA.
All the 57 ministers will be allotted their portfolios soon and what betterment they are going to bring to the 130 billion Indian people is to be seen in the next five years.