M.K. Stalin Accuses the Chief Minister of Coimbatore Flagpole Accident
Vignesh Subbaian (Author)
Published Date :

Nov 18, 2019 16:46 IST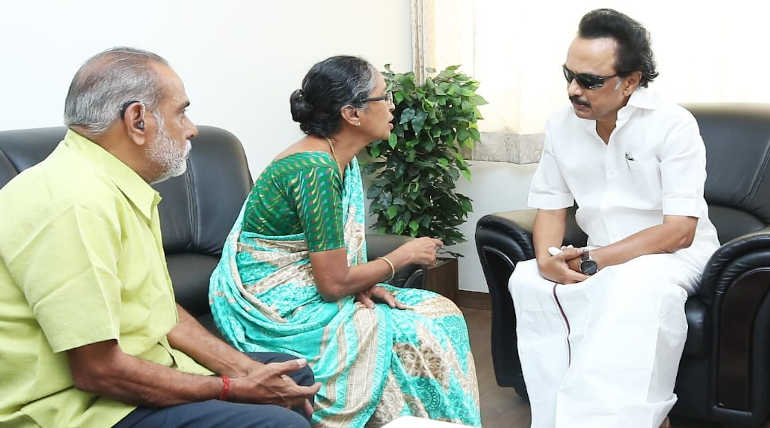 DMK president M K Stalin ups the ante against AIADMK with local body elections around the corner. He criticized the chief minister for saying that he did not know about a woman losing her leg due to an accident by the AIADMK flag post on 11 November. Stalin accused the CM that his answer is similar to what he said about the killing of 13 innocent people by Tamil Nadu police in Thoothukudi. Stalin also criticized the AIADMK government showing negligence for social justice due to which the Madras High Court has recently stopped government employees' pension claims.
Opposition leader Stalin's accusations on AIADMK and chief minister Edappadi K Palaniswami
DMK leader Stalin visited the ailing Anuradha in Coimbatore on 17 November 2019. The said young lady met with an accident in Coimbatore in an attempt of dodging a falling AIADMK flag post that was kept for welcoming the CM to a marriage function. She was run over by a vehicle that came behind her. She was hospitalized in a private hospital. Though there was excellent treatment, she had to amputate one leg yesterday. Stalin met the young lady in the hospital and promised all help on behalf of DMK to get an artificial leg. He spoke to the PRESS later accusing AIADMK and CM on many issues.
Some important points from MK Stalin's speech to PRESS are mentioned below
The AIADMK government tried to cover the accident of Anuradha
No help from the AIADMK party for the woman without one leg now due to the AIADMK flag post created an accident
Chief Minister has negligently answered that he is not aware of any such accident
It is similar to his reply when Tamil Nadu police killed 13 innocent people during a peaceful procession in Thoothukudi
There is no justice for Subhasree who was earlier killed in a similar road accident due to AIADMK hoarding falling on her while she was driving her two-wheeler in Pallikarnai near Chennai
No one arrested in Coimbatore regarding the accident of Rajeswari except for the driver of the vehicle which runs over her
It is similar to the previous Subhasree case and only after the order from High Court AIADMK functionary who kept the hoarding was arrested
AIADMK's incompetency lack of legal knowledge has led to the High Court stop the seniority pension due to the government employees
AIADMK is continuously showing negligence to the social justice
Pinpointing the high court judgment that the law was brought in haste and without any merits, he said that the AIADMK government should ensure that the 69 % reservation benefits reach all those concerned completely
This kind of negligence and arrogance of the AIADMK should stop immediately