Modi has Expanded his Boundary in India Partially into West and South
Anusha Sathish (Author)
Published Date :

May 25, 2019 17:36 IST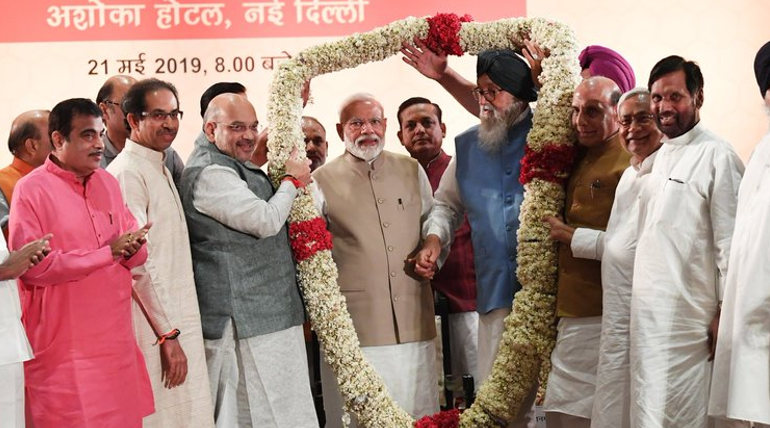 Is it a doable task? While at the contemplating stage, the milestone of achieving 350 out of 543 seats has been declared. Every election Prime Minister Modi is beating his own record. This election the BJP-led NDA government has swept the three regions North, West and East with more than 50% votes. This government is the only non-congress government to return to power for the second time in a row. After Jawaharlal Nehru and Indira Gandhi, Narendra Modi became the third Prime Minister to retain the power for the second time. BJP itself as a party scored 303 seats across the country.
Some exceptional achievements are worth to mention viz BJP made stunning gains in West Bengal, Uttar Pradesh, Maharashtra and Odisha. The striking Modi waves usually surface in Gujarat and Hindi heartland but this time the waves get extended in other boundaries as well. Usually, it is said that South India grounds do not yield Modi's crop. But this time the fertile zones were identified in South India as well. In Karnataka constituency, Modi wave has almost swept and in Telangana to BJP winning 4 seats against mighty Rashtra Samithi is an awestruck event.
Apart from the states mentioned BJP has bettered its vote-base in Madhya Pradesh, Chhattisgarh, Rajasthan, Gujarat, Haryana etc. BJP has not opened its account in Andhra Pradesh, Tamil Nadu and Kerala. Some worthy mentions are Rahul's defeat to Smriti Irani for the first time in Amethi, Debut Amit Shahs's Gandhinagar win, GS BAsavaraj's win in Karnataka etc. Speaking on the victory Modi said, "The polls showed the world, the commitment of Indian voter. It is the victory of people and democracy." It is expected that BJP will open his accounts in the three regions and establish its pavilion in South India as well in his forthcoming elections.