ads
Narendra Modi is Incapable of Facing Direct Questions?
Vijayan Sankar (Author)
Published Date :

May 18, 2019 11:26 IST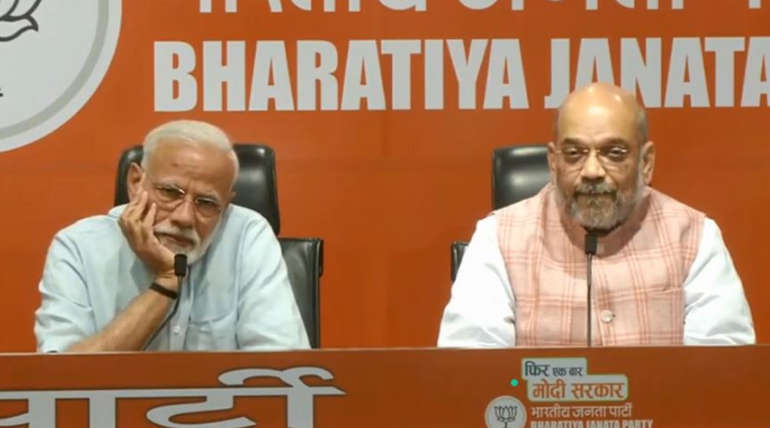 Prime Minister Modi's first Press Conference or is it of Amit Shah's?
In the last five years as Prime Minister Mr.Modi has never even given one press conference. It is a record for any Prime Minister of India. There were only rarely staged interviews of Prime Minister to his favourite channels in the last five years. In the last few days due to the elections, many such setup interviews were telecasted by many channels. The questions were only about his eating mangoes and sending emails in 1987.
Modi a mute spectator in his first press conference
Much publicized Modi first press conference on yesterday was more about Amit Shah answering the questions rather than Modi. Modi hardly said a few sentences and let Amit Shah answer all the questions. He squarely put the responsibility on Shah saying that he is the President of the party and responsible for its affairs. Modi only said at the start of the conference that he thanks the people of India, confirmed that BJP has fulfilled all its 2014 poll promises and would come to power again with a thumping majority.
Rahul's press conference at the same time in Delhi
Rahul Gandhi, the Congress President, gave a press conference at the same time as Modi first press conference. He congratulated
Modi
for his successful first press conference in 5 years. He also mocked him in a tweet that maybe next time Amit Shah will allow him to speak.
Why did Modi did not give even one press conference during his tenure as Prime Minister?
During an interview with Karan Thapar in 2007 when he was chief minister of Gujarat, Modi was not able to face his interview for even a few minutes. For a question on Godhra incident in Gujarat, he abruptly cancelled the interview within minutes of its starting. It only shows that Modi is incapable of facing direct questions. It could be the reason for him evading press conferences for the past five years as Prime Minister.
Narendra Modi is Incapable of Facing Direct Questions?