ads
Not Even God Can Save Modi: Nephew of Mamata Banerjee
Vijayan Sankar (Author)
Published Date :

May 19, 2019 19:44 IST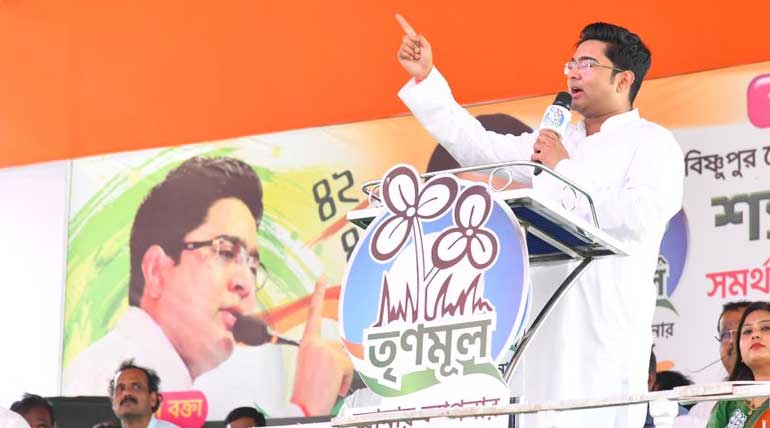 Voting is going on for the last phase of 2019 parliament elections. Abhishek Banerjee, the nephew of West Bengal Chief Minister Mamata, voted in south Kolkata now. After voting, he spoke to the press and said that even God could not save Modi's loss in this elections. Losing the last day of the poll campaign because of the restriction of the Election Commission Mamata Banerjee was much upset. The words of her nephew reflect the anger of this action by election commission which was condemned by all political parties.
West Bengal the eye of the 2019 election storm:
Even though the 2019 parliament elections were for full India, it was West Bengal which was in focus all the time only next to Modi. The bitter slugfest between the TMC of Mamata and BJP made things worse in these elections, and nearly 70 people from both parties are feared dead due to poll violence.
With the left and Congress lost much of their presence in West Bengal it was left to the BJP to gain ground and win a minimum of 20 out of the 42 seats in West Bengal. TMC wants to resist it at all costs. It is the reason for such kind of unprecedented violence in West Bengal.
Why did Abhishek say that even God cannot save Modi?
Prime Minister Modi went on a pilgrimage to Kedarnath right after the end of the campaign. Now he is meditating in a cave in Kedarnath. He said to the press that he did not pray for him but for the country. Only about this Abhishek has said even God cannot save Modi's loss in the elections.
It has to be seen on 23rd May whether God is going to help Modi or not to win the elections and become Prime Minister of India again.
Not Even God Can Save Modi: Nephew of Mamata Banerjee