Naam Tamilar Katchi Candidate Deepalakshmi Votes in Vellore and Fantastic Performance
Vijayan Sankar (Author)
Published Date :

Aug 09, 2019 21:55 IST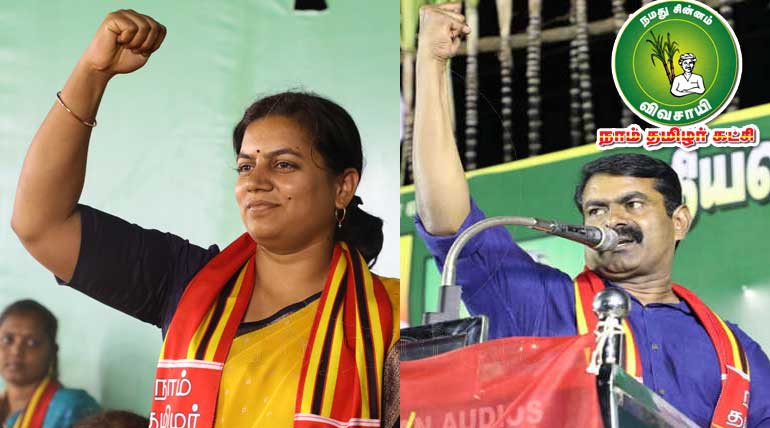 Naam Tamilar Katchi fantastic performance in Vellore MP election
When all other major parties hiding behind DMK and AIADMK, it was the Seeman lead NKT or Naam Tamilar Katchi which put a brave fight against the titans. Naam Tamilar Katchi managed to get 28000 Votes in Vellore Election which is nearly four times the margin between the victory of DMK over AIADMK. It is a remarkable feat to be achieved by Seeman and Naam Tamilar Katchi. May be AC Shanmugam will rue for not roping in Naam Tamilar Katchi also.
Vote share percentage multiplies for Naam Tamilar Katchi with each election:
Naam Tamilar Katchi got more than 5 .58 % vote share in most of the rural constituencies in the 2019 parliamentary elections. It is nearly four times jump from its 2014 tally of a mere 1.5 %. Again in Vellore today it has recorded 28,000 votes, which is nearly 3 %. For nine years, old party Naam Tamilar Katchi without much backing from any big wigs and only those of ordinary laypersons of Tamil Nadu is making a presence in the political arena.
S.Deepalakshmi – 34-year-old housewife with 6.6 lakhs assets is the Naam Tamilar Katchi candidate for Vellore:
It is the mighty A C Shanmugam with many colleges and decades of elections experience on one side. And on the other side, it is Kathir Anand, son of DMK treasurer. In spite of these two big wigs fighting it tooth and nail, Deepalakshmi getting this amount of votes is a sign of democracy is still alive in India.
Supports for Shanmugam, Kathir, and Deepalakshmi:
For Kathir, the whole of DMK, including most of the Ex-Ministers, were helping him. And for Shanmugam, George town fort was shifted to Vellore fort with all the current ministers gathering here for the past few days in support of him. A huge amount of cash was seized by raids in the friend's house of Kathir which made the elections to be countermanded in April. There were rumours of huge money distribution by both the parties. But Deepalakshmi only relied on Seeman and the people to get votes, which is remarkable.
National and big parties hide behind the two principal rivals on fear of getting votes less than NOTA. But, Seeman and NTK fight all the election battles for the past nine years alone. They not only got more than three times of NOTA vote but also prove that there is democracy still in India.