Nanguneri and Vikravandi re-election campaign: DMK in full throttle
Vijayan Sankar (Author)
Published Date :

Sep 27, 2019 13:04 IST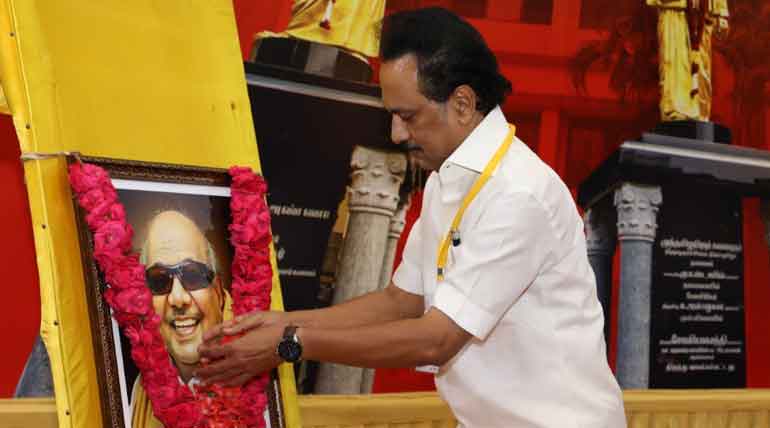 DMK in full throttle preparations for the two re-elections on October 21st
DMK has started its preparation for the two re-elections in Nanguneri and Vikravandi in full swing now. They were the first to announce Pugazhendhi as DMK Vikravandi candidate, as soon as the election dates were announced.
Now they have come out with the schedule of their party president Stalin for campaigning in the two assembly constituencies. They have also released a list of office bearers to take charge of the re-election in the two constituencies.
Also, they have got support from their trusted ally Viduhalai Siruthaigal Katchi led by Tirumavalavan.
Why this rapid pace of preparation by DMK for the two re-elections on October 21st?
Though DMK won all the MP seats except one in the recently concluded parliamentary elections, but they were not able to wrestle as many assembly seats.
The elections for both the parliamentary and vacated assembly seats were conducted simultaneously on April 18th. Though DMK swept the MP seats, it fell back in the assembly seats.
Out of the 22 seats which went for election, they won 13 seats only. The remaining nine seats were won by AIADMK to cement their position strong until the 2021 elections.
Since even though they got the full mandate from the Tamil people by securing 50 % votes in MP elections, all their efforts to win went in vain. BJP came back to power in Delhi with the brutal majority, and AIADMK is secure in the state now.
Assembly elections & local body elections in Tamil Nadu
In 2021, the assembly elections will be held for the Tamil Nadu assembly, and local body elections as of now are scheduled in November. Hence DMK wants to win these two seats to fight these elections on a strong note.
The following are the dates of DMK leader Stalin in Nanguneri election campaign.
October 5th, 2019
October 6th, 2019
October 12th 2019
October 13th, 2019
October 14th, 2019
The following are the dates of DMK leader Stalin in Vikravandi election campaign.
October 3rd, 2019
October 4th, 2019
October 17th, 2019
October 18th, 2019
October 19th, 2019
AIADMK preparation for re-election in two assembly seats
AIADMK has also announced MR Muthamizhselvan for Vikravandi and V Narayanan for Nanguneri as its candidates. With getting nearly 5 lakh votes in the recent Vellore MP election, AIADMK will do all it can to win these two seats. All have to wait until October 24th to see who is winning the two seats.