ads
Narendra Modi Visits Thrissur and Rahul Gandhi in Wayanad for Road Show
Vignesh Subbaian (Author)
Published Date :

Jun 08, 2019 12:05 IST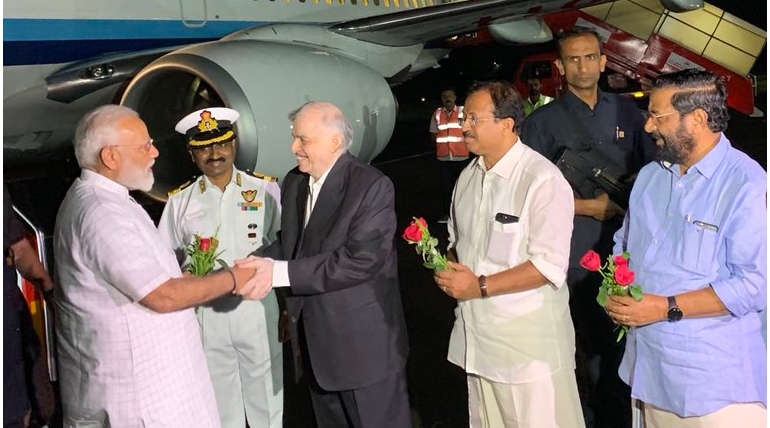 Prime Minister Narendra Modi in Thrissur, Kerala for First Time
Prime Minister Narendra Modi has reached Guruvayoor Temple in Thrissur, Kerala and is offering prayers here. After worshipping in the temple, PM Modi will address BJP workers. PM Modi arrived at the Navy's airport here on Friday night on a two-day tour of Kerala. While the Governor of Kerala, Justice (Retd) P Sadashivam, Minister of State for External Affairs V Muralidharan, Kerala Devaswam Minister Kadkumpali Surendran, actor-turned-MP Suresh Gopi, Mayor Somini Jain and other dignitaries received him. This is his first visit to Kerala after assuming the charge of Prime Minister of PM Modi for the second time. Prime Minister Narendra Modi offers prayers at Sri Krishna Temple in Guruvayur of Thrissur. Security tightened at Sri Krishna Temple in Guruvayur of Thrissur district where Prime Minister Narendra Modi will offer prayers.
Modi will visit Andhra Pradesh
Prime Minister Narendra Modi will visit Tirupati in Andhra Pradesh on Sunday and worshipped at Lord Venkateswara temple. This is his first visit to Modi to Andhra Pradesh after becoming the Prime Minister for the second time.
Rahul Gandhi on Wayanad
Congress President Rahul Gandhi arrived in Wayanad, his parliamentary constituency for the first time, to thank the voters on Friday. He said that it does not matter which party you are from. The support you gave me is unique. During this, Rahul also targeted Prime Minister Modi. Rahul said during the public meeting in Kerala's Nilambar, "The present government and Narendra Modi are spreading hatred in the country. Congress knows and understands that love is the only way to deal with hate. We are committed to protecting weak people in the country from Modi's policies. I am ready to represent you and make Wayanad better. For every person in Wayanad, the doors of my house are open."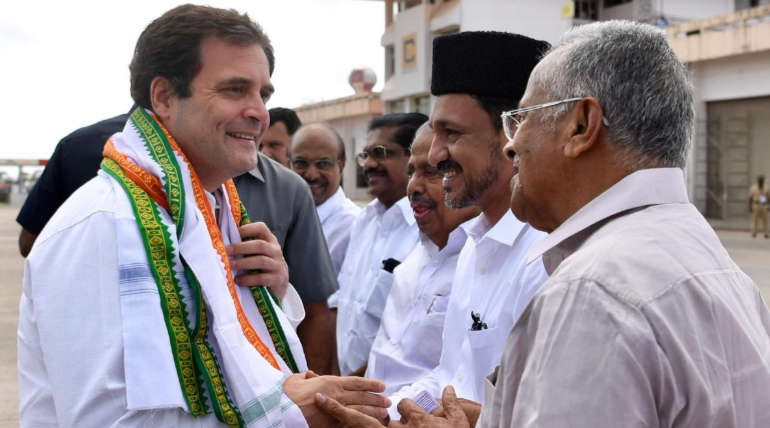 Earlier, Rahul addressed the public meeting after roadshows in Mallapuram. He said, "I am the MP of Kerala. It is my responsibility to give voice to the issues not only of Wayanad but also the citizens of Kerala. It is my duty to listen to the Voice of Wayanad and to become their voice. Thank you, for the love and affection that you showed to me."
Rahul had fought with Kerala and UP
Rahul contested two seats in Kerala and Uttar Pradesh. In Amethi, he was defeated by Smriti Irani, while in Wayanad, Rahul won more than 4,31,000 votes. This is Rahul's first visit to Kerala after winning Wayanad.
Earlier, Congress President tweeted this information. They will stay in Kerala on Friday, Saturday and Sunday for three days. On Saturday, his roadshow will be in Wayanad district. Rahul said that in three days he will be in the 15th place of the reception.
On the suicide of the farmers, the letter was written to the chief minister after winning, Rahul on May 24 expressed gratitude to the people of Wayanad. After this, on May 31, he wrote a letter to Chief Minister Pinarai Vijayan asking for information about farmers who committed suicide due to debt in Wayanad. He had urged the government to increase the scope of financial help of the farmer's families.
കൽപ്പറ്റയിലെ ജനങ്ങളുടെ അനുഗ്രഹാശിസ്സുകൾ ഏറ്റുവാങ്ങി വയനാട്ടിൽ @RahulGandhi യുടെ രണ്ടാം ദിവസം

The second day of CP @RahulGandhi's tour of Wayanad begins with blessings from well wishers at Kalpetta#RahulGandhiWayanad pic.twitter.com/V3gLRvtwcV

— Rahul Gandhi - Wayanad (@RGWayanadOffice) June 8, 2019
Speaking in Guruvayur. Watch. https://t.co/evfCpP7Tht

— Narendra Modi (@narendramodi) June 8, 2019