Narendra Modi Visit Varanasi After Massive Victory
Vijayan Sankar (Author)
Published Date :

May 27, 2019 12:06 IST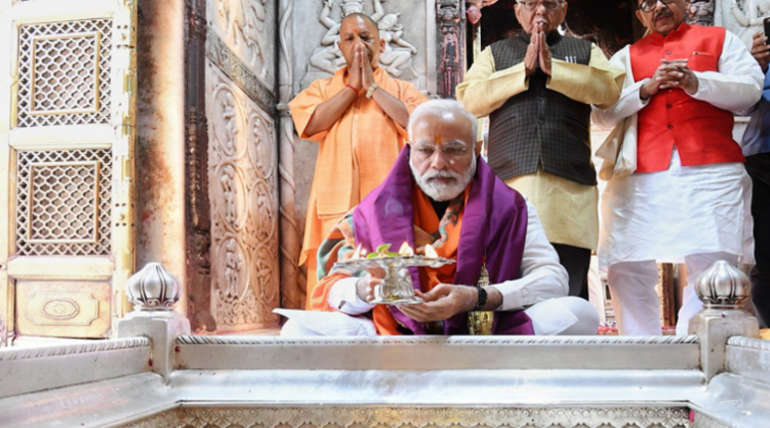 Modi gets a warm welcome by Varanasi people on his first visit after winning 2019 elections: Prime Minister Modi is welcomed by cheers all his way to Kasi Viswanathan temple. He won by a massive margin of a whopping 4.79 lakh votes. It is more than 1 lakh votes he got in 2014. To thank the people of Varanasi for such stunning support, Modi is visiting Varanasi today. It is celebrations at its best in Varanasi on Modi's visit. Modi who has spent most of his youth in Varanasi called himself a Kashivasi in a video message to his voters before the 19th May of Varanasi voting for him. Unlike in 2014 when he contested from 2 seats, it was only one seat Varanasi, which shows the faith he has over the Kasi people.
Lord Kasi Viswanathan temple visit of Modi: During his visits to his favourite and much revered Kasi Viswanathan temple, LED screens have been placed at the entrance of the temple to show the prayers offered inside by Modi. Later he will meet a lot of Varanasi people during his roadshow in Varanasi to thank them for their overwhelming support and faith in him.
Priyanka accuses Modi of not visiting his constituency during the last five years during the elections: One of the main accusations of the opposition and mainly Priyanka who concentrated more on Varanasi accused him of not visiting Varanasi. She said Prime Minister has time to fly to all the countries in the world, but not have time to visit his constituency. To prove it wrong and send a strong message to his much-beloved place in India, Modi is visiting Varanasi today. The party President Amit Shah, UP CM Adityanath Yogi among others, accompany him. Modi choosing the one constituency of Varanasi not only helped him to win with a nearly 5 lakh vote margin but also brought 60 MPs from UP against all odds Will, the people of Varanasi and river Ganga will improve depends on the next five years of Modi's rule.