ads
New case filed against DMK Stalin and MP Candidate Kathir Anand Private Hall Meeting without Permission
Vijayan Sankar (Author)
Published Date :

Aug 02, 2019 11:20 IST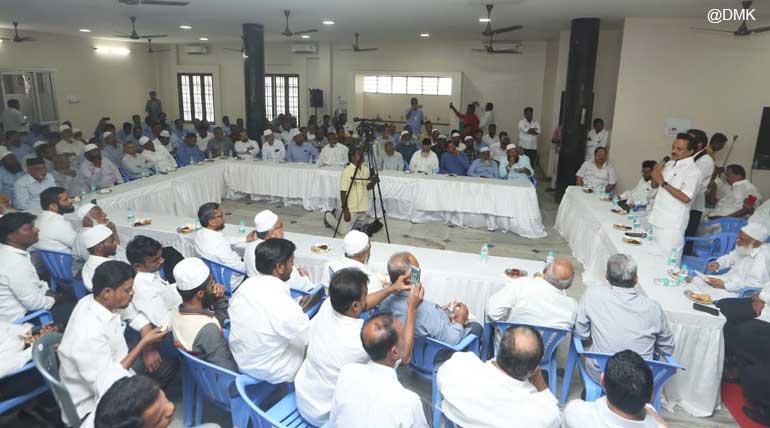 Stalin and MP candidate Kathir Anand booked under three sections in Vellore.
Vellore is getting heated up with only two days left for its MP election on 5th August. Yesterday Stalin had a meeting with many Muslim people in a private marriage hall in Ambur. As soon as he left, Tahsildar Sujatha visited the said hall and sealed it. She also went to the Ambur police station and complained about the poll violations of Stalin and Kathir Anand. Based on her complaint, three sections of poll violence have been booked against Stalin and Kathir Anand.
Is the swift action of the Tahsildar and police correct in booking Stalin?
As per Election Commission directives any organized meeting anywhere in the constituency has to be got prior permission. If any such meeting is conducted without it, it is a poll violation and could be an offence. Hence the action of the Tahsildar seems to be legitimate. But the DMK sources say that it was an unorganized function in an indoor private marriage hall. But it is correct or not, the poll heat at Vellore is at its peak now.
Minister Rajendra Balaji on the filing of case against Stalin:
Minister Rajendra Balaji who is vigorously campaigning for the AIADMK in Vellore, commented on the cases booked against Stalin. He said no one case escape law and law would take its course. He went on to explain that if a DMK man or AIADMK man slips in the bathroom, both will break their bones. And he confirmed that under the EPS rule no one could escape the rule of law. But to the Vellore people, the question of at least finding out who is responsible for the 13 shootout deaths of innocent people in Toothukudi will raise in their minds.
The wish of the Vellore people is only to select the right MP to make their constituency adequate in water and many necessities.
New case filed against DMK Stalin and MP Candidate Kathir Anand Private Hall Meeting without Permission