OPS Depends More on MGR and ACS in His Speech to Elect AIADMK Candidate in Vellore
Vijayan Sankar (Author)
Published Date :

Aug 02, 2019 12:02 IST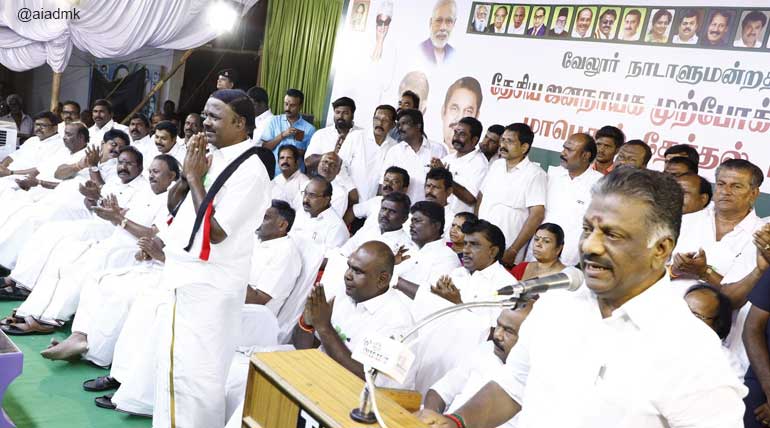 O Panneerselvam depends more on MGR and ACS in his speech to elect AIADMK candidate in Vellore: The Deputy Chief Minister O.Panneerselvam spoke in Cheyyar supporting his party candidate AC Shanmugam for the MP election for Vellore on 5th August. Rather than talking about his party's achievements, he focused more on MGR and ACS achievements in the past.
O Panneerselvem dwells more on history than the present:
The nearly half an hour speech of O.Panneerselvam in Cheyyar yesterday was more of history than the present. He started with the achievements of ACS from 1983. And also he said more about MGR from 1972, and him being the three times successful Chief Minister of Tamil Nadu. The other important thing he said about MGR is that he ruled the state as per the Periyar's principles.
He also said about the promise of ACS of giving free engineering education to 600 students if he is elected to the MP seat. Also, the highlight was that as conceived earlier that ACS will win by three lakhs votes is wrong, and he will win by a margin of 4 lakh votes. Is it possible for that in Vellore?
17th Lok Sabha elections and AIADMK MP seats or "seat"?
Recently concluded 17th Lok Sabha elections, the ruling AIADMK won only one seat from Theni. And it was the son of O.Panneerselvam who won it. AIADMK under Jayalalitha swept the 16th Lok Sabha elections winning all the seats. The DMK which drew a blank then has now swept the 17th Lok Sabha winning all the 37 MP seats in Tamil Nadu to give the only one seat to AIADMK. Then how is OPS saying that they will win by a margin of 4 lakh votes?
The achievements of AIADMK listed by OPS:
1. Tamil Nadu is the only highest power producer from Windmills among all the states in the world
2. Tamil Nadu ranks in the second position in the national education list.
With the present, not much favourable, OPS is banking more of his party's past glory to garner votes for its party candidate AC Shanmugam for the MP seat of Vellore.