Prime Minister Narendra Modi Victorial Speech in Ahmadabad
Vijayan Sankar (Author)
Published Date :

May 27, 2019 10:11 IST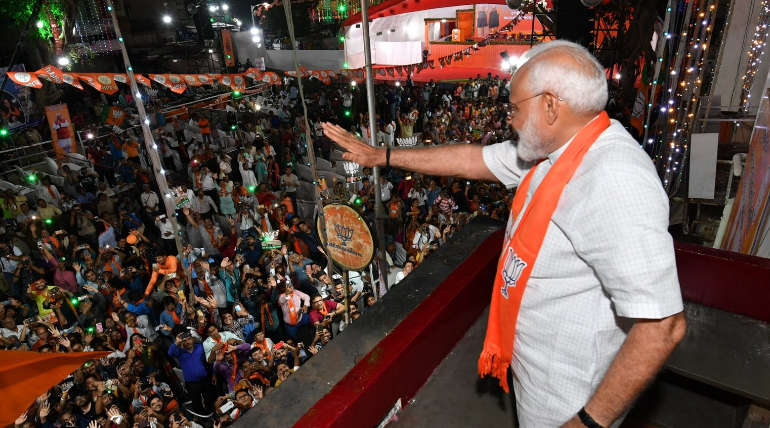 Prime Minister Modi to regain the lost position of India in the world in the next five years: Prime Modi addressed a rally in Ahmadabad yesterday on his first visit to Gujarat after the thumping victory. He assured the people that India will regain its lost position in the world and will be one of the superpowers. Previously he got blessings from his mother and paid respects to Patel's statue, which he built in the last regime. He also said that this time, public participation and public awareness in government would be the priority.
Do people want India to be a superpower or a safe and satisfactory life: The people of India are under various pressures due to unemployment, farmers distress, and many more. Without their basic requirements fulfilled, there is no meaning in India becoming a superpower. Hence, all the people want is their livelihood to better and the future of their children assured of safety and with job opportunities.
So it is time for Prime Minister Modi to concentrate more on the people who have so overwhelmingly supported him for a second term. They made fun of me when I said BJP would win more than 300 seats. Prime Minister Modi also did not forget to take a dig at the opposition in the rally. He said that after the 6th phase of general elections 2019 that he said of winning 300 + seats in the polls. But many made fun of me, but the results proved them all wrong. He also said that Indian people wanted a strong and stable Government in the Center and voted BJP. The next five years will be crucial to India like that from 1942 to 1947, and it is essential to tread the path carefully. The rally is without much pomp and glamour because of the death of 22 students during the Surat fire. The 130 billion people of India now look up to Prime Minister Modi for his actions to uplift their life in the next five years.