ads
Rahul Gandhi Himself Resigning Today in the CWC Meet?
Vijayan Sankar (Author)
Published Date :

May 25, 2019 09:46 IST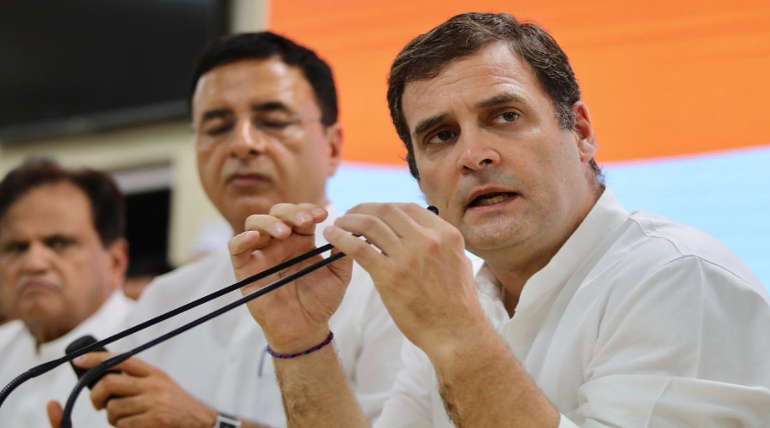 Are the Congress troubles going to end or grow in its today's Working Committee meet? When there are rumors of Rahul Gandhi himself resigning today in the CWC meet, there are already resignations flying from many states. Raj Babbar, the UP Congress chief has already sent his resignation to Rahul. There is a pile of resignations from Odisha, Karnataka and other state Congress leaders on Rahul's table. What is he going to do tomorrow?
Infighting within Congress the main reason for its decimation in the last two elections: The grand old party was not able to control all the states from the center and one after other, most of the states slipped through its fingers. It was the never-ending in fight between various factions of Congress in states that got it decimated. May it be in Odisha, Karnataka, Madhya Pradesh, Rajasthan, and the list goes on. Now everyone after losing wants to resign and if possible, join the ruling party. During the assembly elections, it was Rahul who patiently advised all these factions in various states to come together and contest the polls. It yielded good results, and they formed the Government in three states. But again in the parliament polls, all of it surfaced. It is the reason they got zero seats in Rajasthan and only 1 in Madhya Pradesh.
Will the Congress Working Committee meet today will rebuild Congress or break it? The crucial CWC meeting today after the pathetic decimation of Congress is vital in many ways. Congress has to patiently arrive at the road map, which includes everyone to deal with the mighty ruling BJP for the next five years. It is up to Sonia Gandhi as the Chairperson of Congress to step in and set things right. Many in Congress even now do not take Rahul seriously even after all his attempts. So, today is a big day for the grand old party to survive or crumble.
Rahul Gandhi Himself Resigning Today in the CWC Meet?