Rahul in a 4-page tweet confirms his resignation as Congress President
Vijayan Sankar (Author)
Published Date :

Jul 03, 2019 22:51 IST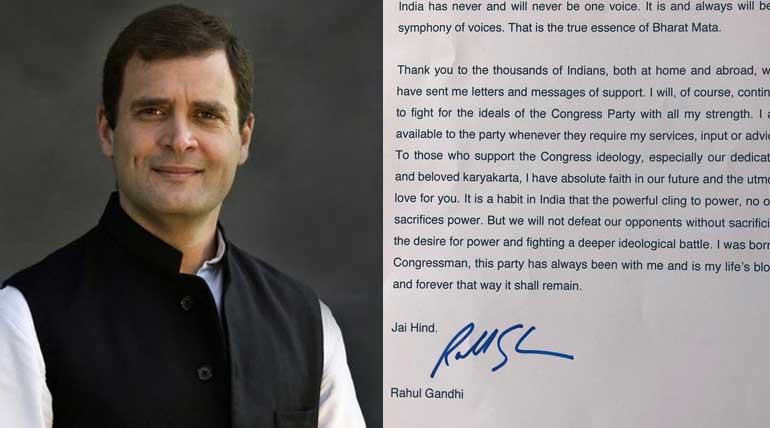 Rahul in a 4-page tweet confirms his resignation as Congress President: In an emotional 4 page letter, Rahul has confirmed his resignation as party president of the grand old party. Each word of the message spells the pain and anguish of Rahul towards the nation and its citizens.
He has said he is resigning taking moral responsibility of the Congress loss in the 2019 Lok Sabha elections. He also wants many Congress leaders to take responsibility for the defeat.
And he goes on to add that when he is asking responsibility from others, it is his duty also to take responsibility and resign. But he confirms that he will fight for India against BJP till his last breath.
Why is Rahul so adamant on resigning as Congress President?
As he describes in his letter, he fought a lone battle against the mighty BJP which used all the state machinery in its side. Also, the money resources of BJP are enormous when compared to that of Congress, and these two reasons changed the table in their favour.
Also, Rahul is upset with many Congress leaders for not giving their best in the elections. Even in the CWC meeting on 25.5.2019, he has mentioned that the leaders were only promoting their kith & kin and working only for their families.
In Rajasthan and Madhya Pradesh were only 6 months back Congress defeated the all-powerful BJP. But in the Lok Sabha elections barely six months later only one seat was won in both the states put together.
It is because of the two chief ministers were busy promoting their kin than campaigning for the party. It is right across India with many leaders of the oldest party were busy only promoting their kith and kin.
The moving words of Rahul in his 4-page tweet:
Rahul said that in this challenging and unfavourable situation, Congress fought a decent battle as per norms. Also, he said he is not against BJP but only against their ideologies.
He said that this is going on for thousands of years and he embraces where they fear he sees similarity where they see differences, and he loves where they hate.
Rahul may be defeated in the elections, but the way he fought against the mighty BJP with all the support of Government machinery, media, and financial resources is commendable.
But the future of Congress seems bleak without his leadership. He should reconsider his decision for the welfare of all the citizens of this great nation.
It is an honour for me to serve the Congress Party, whose values and ideals have served as the lifeblood of our beautiful nation.

I owe the country and my organisation a debt of tremendous gratitude and love.

Jai Hind 🇮🇳 pic.twitter.com/WWGYt5YG4V

— Rahul Gandhi (@RahulGandhi) July 3, 2019