Rajinikanth on BJP: Comments of State Political Personalities on it
Vijayan Sankar (Author)
Published Date :

Nov 08, 2019 18:22 IST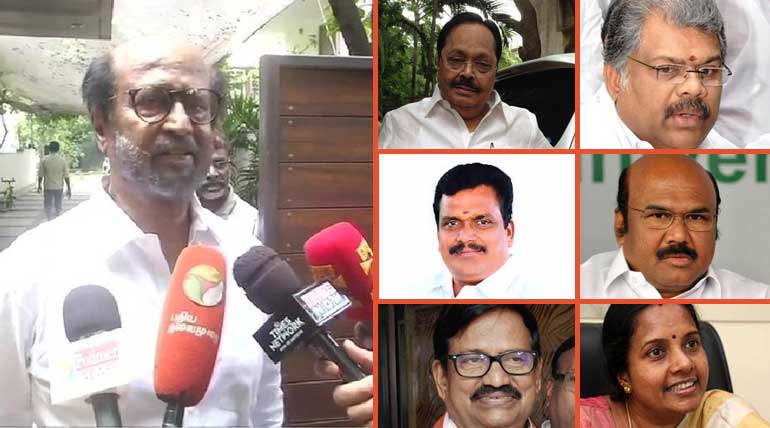 Politicians and famous personalities comments on Rajni's remarks on 7 November: Rajni's remark on BJP and his thoughts about the current state government in Tamil Nadu have created ripples across the political leaders and others. There were widespread comments about his remarks. Many are of the idea that it was his personal opinion and not that of a party. Since he has not officially announced his party, it may be accurate, but still, the words have the repercussions in the political circle. Some leaders and famous personalities about Rajni's comments yesterday.
Thangatamil Selvan – DMK Propaganda secretary: After the demise of Kalaignar and Jayalalitha, there was sure a vacuum in leadership, says Thangatamil Selvan, DMK's new propaganda secretary. But he says that it is wrong for Rajni to say that there is still is vacuum is false. The reason he says that Stalin has aptly filled it.
G K Vasan – President of Tamil Manila Congress party: G K Vasan, who met prime minister Modi recently, expressed his opinion about Rajni's thoughts about the vacuum in Tamil politics and pointed out it as Rajni's personal opinion. When asked about he announcing the party earlier, he says that it was not officially announced and until then should be taken only as an individual view.
Director Ameer: Director Ameer congratulates Rajni for bringing out for the first time about how the BJP is conducting politics in Tamil Nadu. Rajni is still superstar after 40 years because he is common to all religious people. But Ameer continues that for the past four years, Rajni is talking in favor of BJP and also attended vice president Venkiah Naidu's book releasing function without invitation. He also said there that Modi is Krishna, and Amit Shah is Arjuna. All these have created doubts in the minds of Tamil people.
D Jayakumar - Fisheries Minister ADMK: Amma's loss is still sure a vacuum, and the fantastic rule of AIADMK has merely filled it, and there is no vacuum anymore, was his contention.
Tamilaruvi Manian: Only some people try to paint Rajni with saffron, and he has given a befitting reply to them is his opinion.
KS. Algari – Tamil Nadu Congress President: Rajni will never come to politics and has given one of the best of his Press meet with this announcement. He did not comment on anything about the vacuum said by Rajni.
Vanathi Srinivasan – General Secretary Tamil Nadu BJP: Vanathi Srinivasan says that it was Rajni free views, and it is against him being painted by saffron color by some people. In this way, BJP distances itself from Rajni's saying of someone saffronizing him.
Durai Murugan – Treasurer DMK: Since he is on a lengthy shooting schedule, Rajni does not know that Stalin filled the vacuum long back is the view of Durai Murugan. Regarding the saffronization of Rajni, he distanced from it, saying DMK does not know anything about it. Let Rajni first officially start a party, then we will see, was the sarcastic comment of Durai Murugan.
BJP and DMK are distancing from the saffronizing complaint of Rajni. Then who is doing it is the million-dollar question now for his fans.