ads
Review on the Roaring of Naam Tamiliar Party Seeman
Vijayan Sankar (Author)
Published Date :

May 09, 2019 18:17 IST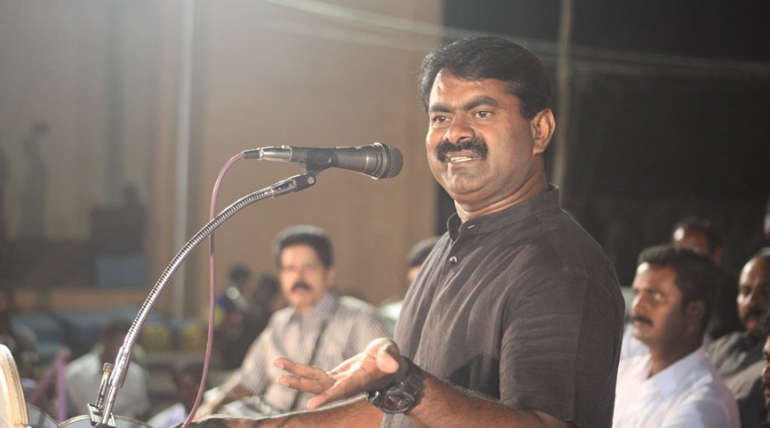 Roaring of Naam Tamiliar Party Seeman: Today an article about Seeman, the leader of Naam Tamilar Katchi is quite impressive. It was published in a Tamil daily newspaper affiliated to the DMK party lead by MK Stalin. It was titled as Seeman is shouting by way of the roaring of a forgery hero. Seeman since the inception of his party NTK in 2017 has been a critic of all ruling party members both in Central and in State.
Seeman has criticized MK Stalin of walking on the roads of the four constituencies and drinking tea with ordinary people. He has questioned that it had become Chief Minister would he do the same. It has angered the DMK and has made them lambast him in their article today. He also went on to say that his party nor he will not do such dramatic acts.
Further, he indicated that Tamil Nadu would only if the two main Dravidian parties DMK and the ruling AIADMK are out of power.
Seeman who was an actor and director in Tamil movies is a vocal critic against all kind of such acts. There are people in Tamil Nadu who give importance to his words. Since he has not aligned with any party for the past 12 years and stood all elections, he has got
a considerable following among some angry youth of the Tamil people.
DMK which is fighting for winning the maximum number of seats to overthrow the ruling party was agitated by his outburst. They feel his speeches may hamper their chances. But by publishing this article of Seeman's criticism, they have only made it a
more significant issue is known to many people. Even though Murasoli is mainly read by DMK cadres, by publishing this article they have made Seeman more popular and his views a talkative issue. Also, they have concluded the report by inviting Seeman to a
DMK meeting and discuss issues.
Review on the Roaring of Naam Tamiliar Party Seeman