ads
Seeman at Nanguneri and his thoughts about the Revolution of Tamil Legends
Arjun Krishnan (Author)
Published Date :

Oct 17, 2019 17:23 IST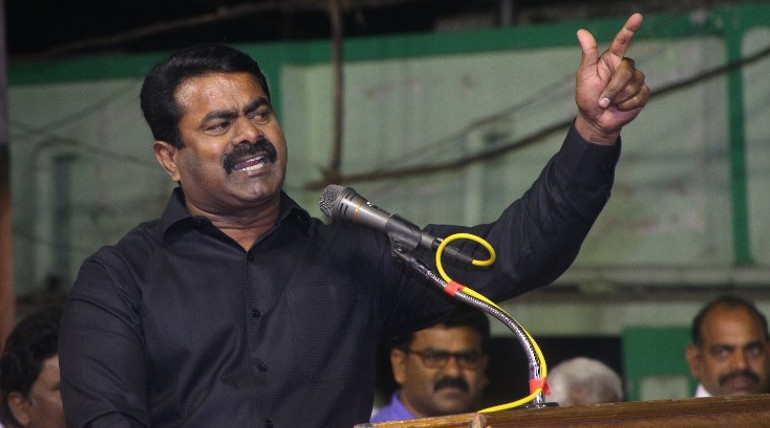 Naam Tamilar Party's Chief Coordinator Seeman presented his Election Propaganda at Nanguneri Constituency to support his party candidate, Mr. K Kandasamy. He gave a thought-provoking speech on various aspects and issues regarding Linguistic suppression, Death of Veerappan, and Prabhakaran.
As a part of his speech, he provoked the emotion of People over Tamil culture by listing out some issues. The encounter of a famous personality, Veerappan, was one among them. He stated that Veerappan was killed with poison and swapped the entire incident as a police encounter named Cocoon.
Seeman expressed his most profound regret to people who are unaware of things happening around them. He explained the achievements LTTE (Liberation Tigers of Tamil Eelam) leader Velupillai Prabhakaran and atrocities done by the Indian Peace Keeping Force (IPKF), an Indian military evacuation process of eliminating extremist groups in Lankan soil.
During this Firm battle, many Tamil civilians were killed, and there were a large number of Casualties. In this process, an undeclared war took place between the Sri Lankan army and LTTE.
In the year 2009, the army sneaked through the LTTE defense and defeated them. Seeman claimed that the Indian Government under Rajiv Gandhi's rule had played a supportive role in defeating LTTE.
He also said that the murder of Indian Prime Minister Rajiv Gandhi by a suicide bomber is a Justifiable one.
Later in the Evening, VSK (Viduthalai Chiruthaigal Katchi) leader Thol. Thirumavalavan has addressed the media that, the Statements made by Seeman during his speech were an acceptable thing. He also advised Seeman that he need to be even more careful while handling such issues as Rajiv Gandhi's murder.
Seeman at Nanguneri and his thoughts about the Revolution of Tamil Legends