Seeman continues his controversies in the two by-elections
Vijayan Sankar (Author)
Published Date :

Oct 19, 2019 12:08 IST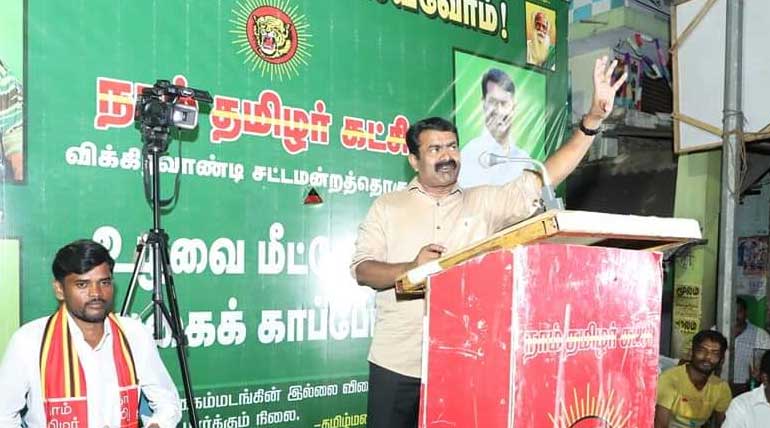 Seeman continues his controversies in the two by-elections: Seeman continues his controversies in the by-elections of the two Vikravandi and Nanguneri assembly constituencies. While it was rewriting history on the death of former prime minister Rajiv Gandhi, it is now against Dairy minister Rajendra Balaji.
In a press statement, on behalf of his party NTK, Seeman has asked Rajendra Balaji to ask for public forgiveness from the Islamic community.
Seeman - the man of controversies in two by-elections: For the past more than a decade, Seeman's NKT or Naam Tamilar Katchi has been continuously fighting in all elections in Tamil Nadu. Though knowing well that there is zero chance of winning them, he was stubborn in contesting in all the polls without any allies.
Even in the Vellore MP election, his candidate got more than 25,000 votes. In these two by-elections when even Kamal Haasan's Makkal Needhi Maiam party nor mighty TTV Dinakaran's Amma party failed to contest, Seeman's NKT is courageously contesting the elections.
But unlike before, Seeman, while speaking in a campaign meeting in Vikravandi, said that history would be rewritten about the murder of former prime minister Rajiv Gandhi.
He accused Rajiv Gandhi of sending IPKF or Indian Peace Keeping Force to Sri Lanka when he was prime minister and killed Tamils. And his assassination will be rewritten as the killing of a Tamil enemy in Tamil's motherland.
Congress party Tamil Nadu president is set to file a case against Seeman. Meanwhile, on a complaint by Villupuram Congress Secretary Ramesh, a complaint under Section 153, and 504 of IPC have been booked by Villupuram SP Jayakumar.
But even after condemns from many quarters, Seeman is yet to withdraw the comment on Rajiv Gandhi's assassination.