Seeman Fired at the Young Voters in Chinniyampalayam
Prakash Jayaram (Author)
Published Date :

May 11, 2019 11:32 IST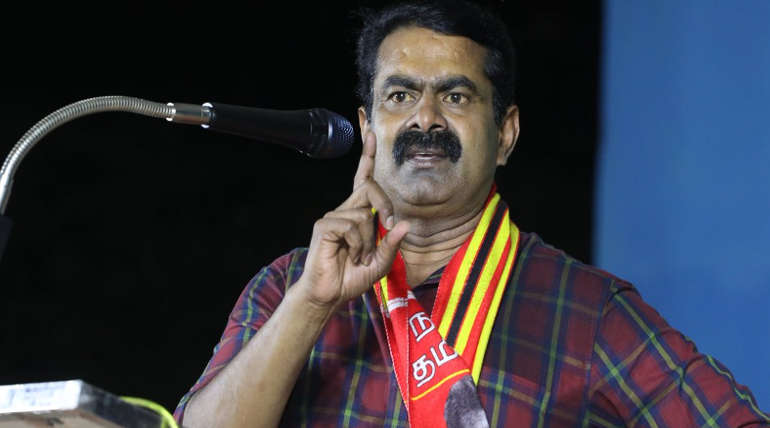 Senthil Balaji is a political chameleon: "Why aren't we using the education to vote for the right one yet we pride ourselves to have 83% literacy", Seeman fired at the young voters in Chinniyampalayam near Coimbatore. He said this answering his own questions for why we are still voting for these kinds of people. Senthil Balaji was a member of the ADMK party before the intraparty conflicts.
He then jumped to AMMK and was disqualified for that. After that, he jumped to DMK and is now campaigning for DMK. Seeman criticised the decision to vote for the big parties because of the sentiments towards former leaders.
Fat with money: Angry about the money for vote culture he says, "Nowhere in the country or in the world that such schemes gain popularity". He also mocked the disqualification of the MLAs that it is disgusting that they are disqualified not for any reasons concerning the people's welfare but for personal political and financial gains. He stated that these are men fat with money who only care about their reign.
Destroyers of the environment: Seeman spoke out loud what most of us feel every day. He blamed the water scarcity on people's negligence and on the carelessness of the government. He accused the people who opposed the closing of Sterlite the destroyers of the environment.
Seeing the struggle the animals endure every day to search for water running into people and getting killed. While we waste water in the name of luxury every day. He also warned the people that the day will come when they will search for water in their multimillion dollar cars. He also promised that the people will come to him one day when their corrupt politicians take everything from them and run to foreign countries.