Stalin accuses AIADMK on many issues in today's interaction with Nanguneri people
Vijayan Sankar (Author)
Published Date :

Oct 10, 2019 19:16 IST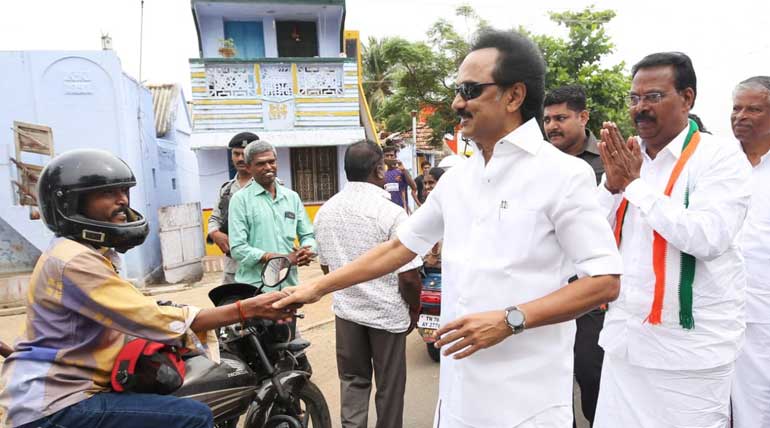 Stalin accuses AIADMK on many issues in today's interaction with Nanguneri people: DMK leader MK Stalin continues his fierce campaigning in Nanguneri for the by-elections on 21st October. Today the opposition leader, along with Nanguneri by-election candidate Ruby Manoharan went to many places in Nanguneri.
All along the walking journey, he held many shuttle campaigns and also had many interactive sessions with the Nanguneri people. In one such interaction in Sengulam, he highly criticized the ruling AIADMK and garnered votes for Ruby Manoharan.
Nanguneri by-elections: With the sitting MLA Vasanth Kumar being elected as the Kanyakumari MP, the current by-election to Nanguneri is to be conducted on 21st October. With his brother Kumari Anandan not given the seat to contest, the DMK chief has a lot to do in the constituency.
Hence he is going around Nanguneri to garner support for Ruby Manoharan. Since it is a prestigious issue for DMK not to lose its alliance seat to AIADMK, Stalin is making sure that Congress wins the Nanguneri MLA seat.
What are the contentions of Stalin in Sengulam, Nanguneri, today? DMK leader Stalin accused AIADMK on various issues and also set out many reasons why the people should vote for Congress on 21st which include
First, he thanked the people for their support, welcome and also for their substantial massive mandate for DMK in the May MP elections
He accused the AIADMK party of canceling 18 MLA posts which caused by-election in those constituencies
Failure of the AIADMK government which is in power for the past eight years to tackle the water crisis in Chennai
Accused AIADMK and officers of swindling money by issuing fresh contracts for cleaning lakes to store water
DMK party though on the opposite benches is doing a lot of lake clearing work by its youth wing
Accused the DGP of Tamil Nadu police to have taken bribe from gutka suppliers
Explains the IT affidavits in courts of the proof of minister Vijaya Baskar getting kickback to save the gutka suppliers
AIADMK conducting a slave rule under the power of the BJP due to many cases pending against the chief minister, his deputy, and other ministers
Also accuses AIADMK that follow all BJP conditions, failure will result in CBI proceedings against them
Inability to control Dengue and even to suppress its dangerous deaths among people
Accuses AIADMK of not conducting local body elections for the past eight years, which with various posts could have solved a lot of Tamil people problems
He also said that Ruby Manoharan has served fifteen years in Indian military and has no cases pending against him, unlike the opponent candidate who is having numerous cases, including cheating cases against him.
With only ten more days for the by-polls in Nanguneri, there may be more fireworks among the two main contestants DMK and AIADMK.