Stalin Continues his Campaign Unmindful of CM Aggressive Accusations
Vijayan Sankar (Author)
Published Date :

Oct 19, 2019 10:23 IST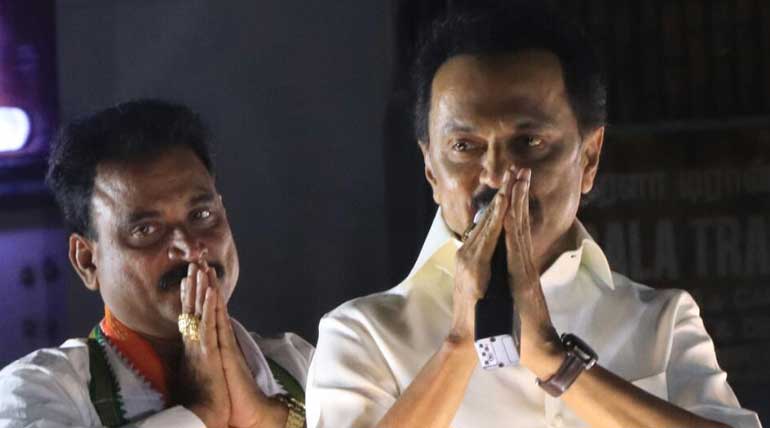 Stalin continues his campaign unmindful of CM's aggressive accusations: DMK leader Stalin continued his campaign for DMK candidate Puzalendi in Vikravandi yesterday. He also on his part spoke about DMK's achievements for Vikravandi constituency during their previous rules and accused AIADMK and BJP central government also on many issues including
Veterinary hospital, primary health centers in Radhapuram in Vikravandi
Radhapuram Kattapattu link road, OHD tank, Vettukadu –Kayatharu link road, bridges in Vikkaravand constituency
The central BJP government waived Rs. 76,000 crores of State Bank of India loans by 220 richest men in India
But BJP nor the AIADMK are waiving the loans of poor farmers
AIADMK acts as per the intentions of BJP and the AIADMK rule under CM Edapadi Palanisamy is functioning as a slave of BJP with their hands tied, mouth shut, and at the feats of the BJP
Additional developments for by-elections: DMK leader Stalin has asked CM to immediately reply to reports on Governor Banwarlal Purohit's refusal to release the 7 Rajiv Gandhi murder accused. Taking to Twitter just before the by-elections, Stalin has asked CM to reply on the denial of Governor to the assembly resolution to release Perarivalan and six others.
In another development, Rama Nagarathinam, chief convener of Vanniyar societies across Tamil Nadu pledges his community Vanniyar support to DMK. The reason he said in a PRESS meet is that it was only in Vikkaravandi that 21 innocent Vanniyar's died in the struggle for Vanniyar's due recognition in education and jobs.
Many twists are yet to happen today is the last day of the campaign for by-elections in Vikravandi and Nanguneri constituencies. There could be more aggressiveness of CM and Stalin to be seen before 6 PM when the campaign ends. But it is the people to decide on 21st October and who wins will be known around 1 PM on 24th October.