States in Trouble after the Victory of NDA
Vijayan Sankar (Author)
Published Date :

May 28, 2019 10:41 IST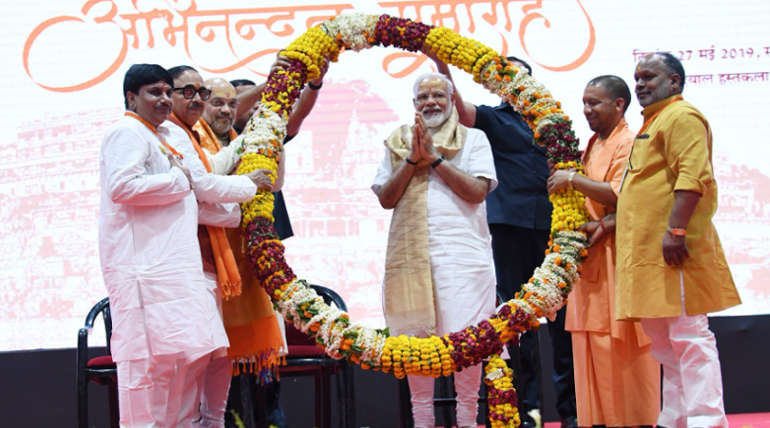 The landslide victory of NDA in the elections may see a change of governments in many states. It is due to the lack of majority and other reasons. The first states under trouble are Karnataka, Madhya Pradesh, Rajasthan, and West Bengal. The overwhelming support of the Indians to NDA, which is going to be in power for the next two years is making many jittery and want to switch sides.
Karnataka to collapse anytime: The uneasy coalition between Janata Dal-Secular and Congress was the reason for the drubbing of both the parties in Karnataka. Also, the chaos of allotting the inappropriate seats caused more damage. On Sunday two Congress MLAs met SM Krishna of BJP.
The coalition is having 117 MLAs support in the 225 MLA assembly. BJP has 105 MLAs. After the swearing in of Modi as Prime Minister, there could change of equations and the fall of the coalition government in Karnataka.
West Bengal MLAs queuing up before the BJP: During an election campaign in West Bengal, the Prime Minister openly said after the elections 40 of TMC MLAs would rally behind him. It is what is happening now. Three TMC MLAs to join BJP in Delhi today. Lead by the suspended MLA Subrangshu Roy, son of Mukul Roy, two other TMC MLAs are flying to Delhi today to join BJP. What next is going to happen in West Bengal has to be seen in the coming days.
Rajasthan and Madhya Pradesh: These two states which were won by Congress drew a blank in the general elections. Only one MP seat won in MP and nothing in Rajasthan. It was one of the most humiliating defeats of Congress. Also, both the states are on the verge of collapse due to in fight and dissent after the drubbing in the general elections. Rajasthan Agriculture Minister Kataria resigns yesterday owing to a moral responsibility to the debacle in general elections. Two other ministers have come out in the open against the credibility of Chief Minister Ashok Gehlot. All this adds trouble in Rajasthan for the Congress Government.
In MP Congress needs the support of BSP to be in Government and there also there is enough trouble to come out in the open soon. All these 4 states may see a sea of change shortly after the swearing-in ceremony of Prime Minister on 30th May.